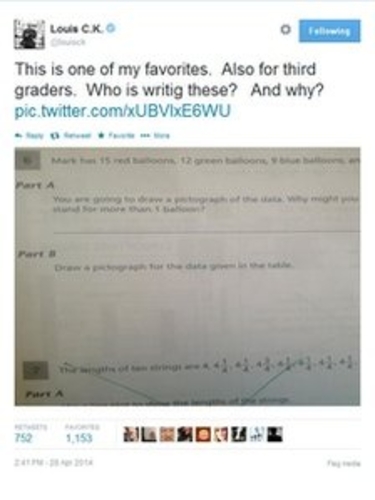 How a US comedian sparked a nationwide debate about the US curriculum - by tweeting his daughter's maths homework
Lots of people will wince when they think back to grappling with Pythagoras and being bamboozled by algebra at school. But when US comedian Louis CK's daughter came to him in tears with her maths homework, he took an unusual step. He shared three photos of her maths problems to his over 3 million followers on Twitter, complaining the work was simply too difficult and sparking a fierce response on social media. "My kids used to love math," the comedian said. "Now it makes them cry."
Louis CK's tweet sparked a debate
His tweet has been favourited over 9,000 times and retweeted over 7,000 times. It is a politically pointed move because he sharply criticises the Common Core Standards Inititaive, a set of educational standards that has become part of the curriculum in 44 states in the US since 2009. The initiative is meant to raise academic standards but has been criticised for putting children under pressure. "It's all about these tests," CK tweeted. "It feels like a dark time. And nothing is going in anymore."
A number of social media users have supported the New York based entertainer, whose comedy often involves talking about his daughters. One user tweeted the star saying: "I would literally consider not having kids because of math homework". But Learn More. Go Further, a Florida-based organisation that advocates education reform, got in touch with BBC trending to defend the Common Core initiative from the wave of online criticism. "The fact is Common Core doesn't come with set curriculum or homework," they said. "Those decisions are made at the local level."
Reporting by David Lewis
Have you subscribed the BBC Trending podcast? You can do so here via iTunes or here
All our stories are at BBC.com/trending
http://www.bbc.com/news/blogs-trending-272...
Posted By: Jen Fad
Wednesday, April 30th 2014 at 9:06PM
You can also
click here to view all posts by this author...