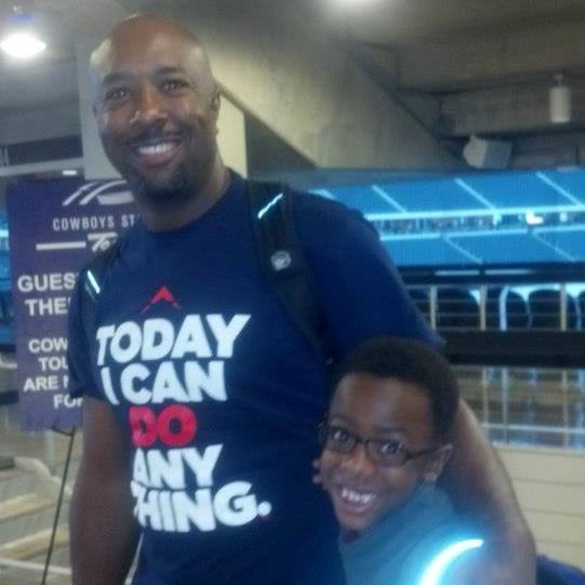 CLICK HERE TO PURCHASE YOUR REAL MEN RAISE CHAMPIONS T-SHIRT.
There is no surefire way to develop a platform for success. But I have learned during my 47 years on this planet that success is predicated on one's ability to 1) regulate his thoughts, feelings and behaviors, 2) make righteous decisions, 3) surround himself with people who will inject life in them, not death, 4) display a strong, work ethic in all personal and professional endeavors, and 5) be quick to listen, slow to speak.
All of these factors played out favorably in my life. I was able to develop my own platform for success. However, because I was raised by my single-parent mother in Kingsport, Tennessee (population: about 40,000), I could have easily become a high school dropout, a drug dealer, or a teenage parent, to name only a few. Instead, I graduated from Dobyns-Bennett High School in 1986 to attend the University of Tennessee. While living in Knoxville from 1986-1998, I secured my undergraduate degree in Social Work and my graduate degree in Social Work Management and Community Practice. The very next year, 1999 to be exact, my wife and I would move to Massachusetts, representing the first time I had lived anywhere other than my native Tennessee.
What you need to understand about me is my parents separated and divorced when I was four years old. Consequently, I grew up saying I would be nothing like my father, at the time a deadbeat. I possessed a longing to be present in the lives of my future wife and children. So, rather than allow my bitter thoughts and feelings toward my father to weigh me down, I made them work for me in my pursuit of prosperity. There was no way I was going to use not having him in my life as a crutch.
But to say I wasn't adversely impacted by my father's lack of involvement would be an understatement. I was impacted, immensely. Because his contact with me was infrequent during my childhood years, I was robbed of opportunities to:
Create lasting memories with my paternal grandfather and grandmother (both now deceased);
Develop solid relationships with my paternal uncles and aunt, as well as their children and grandchildren; and
Learn my paternal roots through osmosis (from simply living and relating).
More importantly, though, his absence robbed me of opportunities to know him.
To this day, I envy my half-brother and stepsisters for having much tighter relationships with him. But that's on him. He opted to remain present in their lives, not mine.
But, again, I wasn't about to use not having him in my life as a crutch. I didn't have to. I had excellent role models on my mother's side of the family. My maternal uncles and aunts provided the kind of guidance and encouragement I needed to look beyond my circumstances (impoverished single-parent household) to see the various paths available to me as I grew older. I learned at a very early age that I could either graduate from high school and secure full-time employment, or graduate from high school and attend a four-year college/university. There was also the option of enlisting in the military.
I still remember those family get-togethers in Rogersville and Kingsport, which usually occurred around the Thanksgiving and Christmas holidays. On Christmas Eve, we would eat meals with all the fixings, and, afterwards, exchange gifts. While the eating and gift-exchanges were somewhat central to our being together, I now know it afforded me an opportunity to draw a clear distinction between the lives led by middle-class Americans and those being led by working class Americans.
To say I preferred the former would be an understatement. All of my middle-class uncles and aunts had full-time jobs. The salaries they earned from these jobs enabled them to purchase big homes (with basements) and expensive cars. I even had an uncle who owned a mobile home, and when he took it out on the road to different campsites in the Tri-Cities area and the Great Smokey Mountains National Park, my mother, brother, sister and I were always invited to meet up with them at the campsite. We would be at these campsites all day, the adults joking and eating as they sat in lawn chairs haphazardly set up around tables alongside the mobile home. We kids, my siblings, cousins and I, would explore the parks' wooded areas, even going down to the streams and lakes to skip rocks and phish for crawfish. These were the good ole' days, moments that I will always cherish.
However, I also drew inspiration from my mother. While it is true my father absconded on us, never providing the financial support my mother needed to raise champions, she became a champion in her own right. There were undoubtedly moments of self-pity and doubt, depression even. But she overcame these moments by enrolling in a CNA (Certified Nursing Assistant) certificate program at Kingsport's Steed College. She completed this program with honors, and when she graduated to secure her first job in the nursing profession, I beamed with pride. Granted, she still didn't have much. But she now possessed the academic credentials she needed to add to what she already had.
My platform for success is anchored to my 1977 acceptance of Jesus Christ as my Lord and Savior. At nine years of age, this acceptance also enabled me to become a member of Kingsport's Central Baptist Church. If you're not the religious type, your platform may be anchored to something else, and that's perfectly fine. Please know, however, that most platforms are built upon your desire to either be selfish or selfless.
Selfishness means that everything is catered to you. You would much rather receivethan give.
Selflessness, on the other hand, means that everything is catered toward others. You would much rather give than receive.
Because I consider myself a real man, I choose to be selfless.
Copyright 2015. Jeffery A. Faulkerson. All rights reserved.
CLICK HERE TO PURCHASE YOUR REAL MEN RAISE CHAMPIONS T-SHIRT.
Posted By: J. A. Faulkerson
Saturday, January 24th 2015 at 12:35PM
You can also
click here to view all posts by this author...