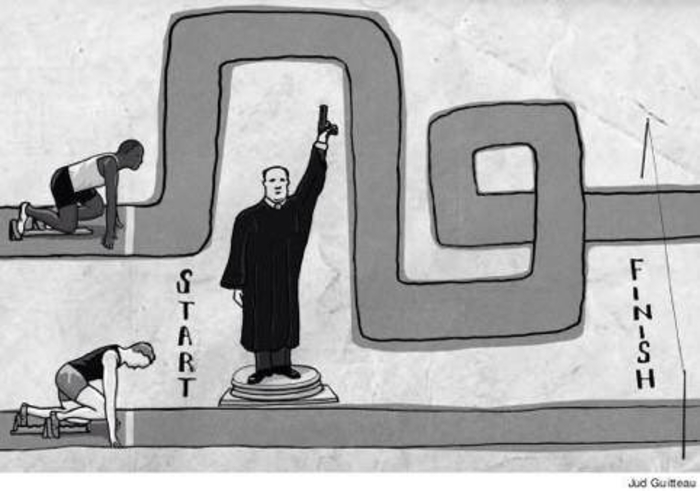 My use of the sport's term, "Leveling the playing field," creates a game staged environment which indicates everyone in the game are playing by the same rules, but that has not been the case.
This expression is the issue that large numbers of White Americans take great exception to when they here about reparations for the injustices of America's Institution of Slavery and about Affirmative Action claims of today's overt discriminating practice by Corporate America.
Most White Americans cannot see the injustices not only because they are detached from the past and they are struggling themselves, but too because Black Americans in their eyes seem to be still prospering at their expense.
If you consider how the Black race is portrayed in corporate media as criminals, beggars, thieves and welfare recipients, this is why we as a people are destained. But, the flip-side of that image is how they Window Dress their corporations and fill the media with literally a handful of successful Black Americans, some of whom are either squandering their wealth and / or are trying to "Fit-in," dividing and conquering.
So, it is no wonder how and why White Americans, especially the heavily taxed burden working Middle Class have no understanding nor any sympathy to our struggle as Black Americans under this Nepotist Capitalism System.
What I disagree with is White Americans' preconceived notion that the majority of Black Americans are being supported by their taxed dollars, It is not even numerically possible considering the US population statistics and the social services records.
I do agree, since these are the game rules, we all have to deal with today, if you don't like the game or you are tired of sitting on the bench, find another game or start your own and stop complaining.
As for reparations, everyone will have their own take on Reparation.
Here in America, after Emancipation there are countless cases of injustices supported by this Government, to me that is Restitution.
In the Eyes of Reason, Reparations, for THEM it would mean admitting, accepting responsibility, and the liabilities, which is not going to happen.
What I expect as a Citizen is to be treated justly, protected and granted the same opportunities under the laws that governs all Citizens of the United States.
Compensation for Our exploitation by American businesses is another issue of Reparation. To me that would mean: scholarships, training, grants, job opportunities, promotions, partnerships, health insurances, etc., from these corporations, foundations, trust and their heirs.
As for ancestral lands, We as descendants of slavery should be looking to West Africa from whence We're indigenous. Those African Nations owe Us a lot more than just Reparation, they owe Us Repatriation for trading Us in to Bondage.
We Black African / Americans are a family and it is time that we begin working toward our own family's interests. The idea that, "Charity begins at home" is not separatism nor selfishness. The neglecting of ourselves and relying on others to provide for us nurtures that negative perception other families have of our community.
Our so called Black Elitist need to stop trying to Fitting-In, "What they don't realize that They are serious when They say that no matter which ethnic group referring, we all look alike to THEM."
Our Black Achievers should return some of their blessings, whether it is wealth and or intellect, and reinvest in the neighborhoods that were abandoned after Affirmative Action.
If there is injustice, "Boycott," when proof of the discrimination, direct or subversive, is documented take your case to the media and the streets. Rioting and destroying our own communities will accomplish nothing, but more Negativity.
"Remember the World is Watching."
Posted By: Ivan Butcher II
Wednesday, February 4th 2015 at 11:01PM
You can also
click here to view all posts by this author...