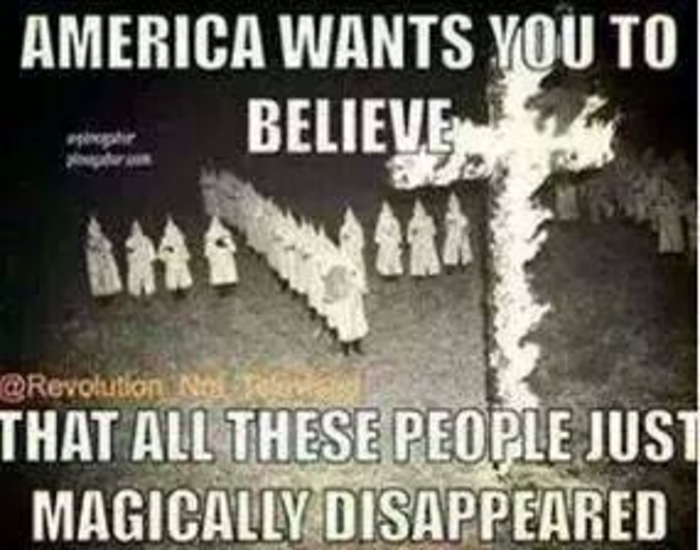 And, my answer is always the same, because there are still much too many both Black and White Americans who are ignorant to the Truth of Americas Past.
Especially after receiving responses like these from Americans of European heritage, depending on who the response is coming from, Black or White Americans and Others, I am not sure which is more destructive the arrogance or the ignorance.
Not to malign or take what these individuals are exchanging out of context, I find their dialogue to be a representation of the points of view of too many, especially Immigrant Americans.
TG
"I think people are getting pretty tired of hearing this kind of divisive rhetoric, especially at a time when there is a black president and a black attorney general, and when the only thing really holding black people back is themselves."
Sure there are still racists, but there are plenty of black racists as well. Somehow I don't think she was calling on them to die, or condemning them for standing in the way of progress.
VB
90+% of blacks voted for Obama twice based upon the color of his skin without knowing anything else about him or about his background. Tell me again who the racists are? And for the record, before you accuse me of being racist, I am supporting Dr. Ben Carson for President in 2016. Not because of the color of his skin, but because of the content of his character. Character, something Obama doesn't have. And I would support Allen West, Condoleezza Rice, Mia Love, or Tim Scott for Vice President. Please remind me what Obama has done for the black community in the past 6 years. I'll help you out...nothing. The black community is worse off today then they were 6 years ago. And it is due to Obama policies. Unfortunately, the black community was focused on his skin color.
TG
What? Are you really that ignorant of your own history? Who do you think sold blacks into slavery? It was other blacks. Who do you think complained when the slave trade was abolished? Yes, it was the black slave traders. Until the slave trade began, in fact, most African blacks (men, in particular) were killed when their villages were raided and wars were waged. The first use of the word "slave" in an American court was when a free black man sued to get his black "property" back.
Blacks still enslave and kill and rape and rob and mutilate their fellow blacks, here and in Africa.
Just because you don't know history doesn't mean it doesn't exist.
VB
I know I'm wasting my time Tom, but, I can't help it.
...
1. My grandparents came to the USA in the early 1900s, legally I might add, long after slavery was abolished. So neither I nor my family has ever owned a slave. So there goes that theory.
2. Unless you are 150+ years old, you yourself have never been a slave to anyone, unless you are a Democrat. So there goes that theory...unless you are a Democrat...then you are "self-enslaved," and have no one to blame but yourself. But I'm sure in this day and age of not taking responsibility for your actions, that too is someone else's fault.
3. Your definition of racist is spot on. Sounds a lot like....
4. It's not racist when 90% of blacks vote for the black guy? If 90% of whites voted for the white guy, you'd be out protesting and rioting. And if 90% of whites voted for the white guy, Obama would not have won. So much for that argument.
5. It's hard to have a discussion with someone who can't differentiate between here and hear. My 10 year old knows the difference. But I guess that's going to be blamed on my white superiority instead of my taking advantage of the opportunities this country offered me. My grandparents came here without a penny to their name. But they worked hard, never asked for a handout, and raised a family with one mother and one father. And they took care of their kids and made sure every one of them graduated school and went on to college to better themselves and open up opportunity. Nobody gave them anything. They worked for it. And I, myself, paid for my own college education. No one gave me anything. I worked for it
Another standard response I hear from White Americans is, that was the Past and they were not responsible for what happened in the Past, Reparation should not be a responsible of the Government.
Rather than fester over the negativity of these types of responses, I want to take the opportunity to Enlighten.
Those tax paying Americans, the majority middle class Whites, who feel America no longer has a debt pending on Slavery, the reality is that the USA is still paying a Past debt to the British Empire for the American Revolutionary War 1776.
So I make this point:
The United States is still a British Colony
http://www.theforbiddenknowledge.com/hardtruth/united_states_british_colony.htm
To me these two individuals are not spewing out hate, how I interpret their responses to be more of protectionism, Tribalism. Deflecting and distracting has been the manner they try to justify their perspective.
The fact that the majority of White Americans rarely live in or near Black communities, the criminals they face are their own, and the White Collar criminals which are also themselves, Politicians and the Corporate lobbyist, yet the Black Americans are the blight on the State of the Union.
You know what goes hand in hand with racism, Ignorance.
Perception is a Preconceived Notion!
Imagine the poor ignorant and racist in America are supporting the Wealthy and the Republicans, "Cutting off their nose to spite their face, solely because Obama is Black."
Until issues are discussed openly and each person has a chance to express themselves and to demonstrate to the other that they understand, but that they do not necessarily agree; the possibility for positive change is bleak.
I am a Pessimist about Humanity becoming any more Humane, especially when Harmony cannot even be achieved in our own Families.
My Perception:
The wealthy are circling their wagons in America and the World. To protect their insatiable appetite for the luxuries of The World, they have to thin the herd/world population: No to jobs, No to higher wages, No to welfare, No to healthcare, No to daycare, No to school lunch, No to prenatal care, Sterilization, etc..
Denial is Contrary to Self-Preservation!
Posted By: Ivan Butcher II
Monday, February 9th 2015 at 3:11PM
You can also
click here to view all posts by this author...