THIRD ANNUAL LONG ISLAND AFRICAN AMERICAN HERITAGE PARADE
FAMILY, COMMUNITY AND CULTURE
Hempstead NY-August 24, 2015-The Youth Empowerment Institute Inc. along with Economic Opportunity Commission of Nassau County Inc. will be holding its Third Annual Long Island African American Heritage Parade and 33rd TAHAD Festival on Saturday, August 29, 2015. The parade route will start on 322 Nassau Road, Roosevelt New York (Western Beef) parking lot and will end on Nicholas Court, Hempstead NY where the festival will be held at.
The Third Annual Long Island African American parade and the 33rd TAHAD Festival is set to be the driving force in strengthening families, bringing unity in the community, and embracing culture. We are thrilled to have Meli'sa Morgan who is a 2014 Soul Train Music Award Nominee R&B Songstress and was also featured on TV One Unsung. Morgan is known for her 80's hit "Do Me Baby" and will be our main performer at the festival. The parade and festival is set to host a variety of performances that will have you dancing and singing throughout the day. There will be a variety of fine cuisines that will be serviced by our vendors. A Health Pavilion will be available for you to sign up for health insurance and free health screenings will be available to the community. African Americans are at the highest risk for Diabetes and high blood pressure so it's very imperative that you get a health screening that will be provided at the festival. The Kiddy Corner will be available for children to enjoy activities in a family friendly environment.
The African American Heritage Parade and Festival objectives are to showcase the richness of the African American community on Long Island, educate our youth and allow them to experience African American pride by embracing its legacy. Our Seven Grand Marshalls will be introducing the Seven Principals of Kwanzaa with the purpose of contributing in building and reinforcing family, community and culture among African American people as well as Africans throughout the world African community. These values are called the Nguzo Saba which in Swahili means the Seven Principles. Developed by Dr. Karenga, the Nguzo Saba stands at the heart of the origin and meaning of Kwanzaa, for it is these values which are not only the building blocks for community but also serve to reinforce and enhance them.
Vending opportunities are available and performing artist are encouraged to contact us today. For information on participating in the African American Parade and Festival feel free to contact us via email at tahadfestival@gmail.com or call 516-243-9765.
For media inquiries regarding the First Annual Long Island African American Heritage Parade and Festival please contact Lithera Forbes at 516-532-2181 or via email lithera@litheraforbes.com or contact Phil Andrews at 347-475-7158 or email phillandrews2001@gmail.com.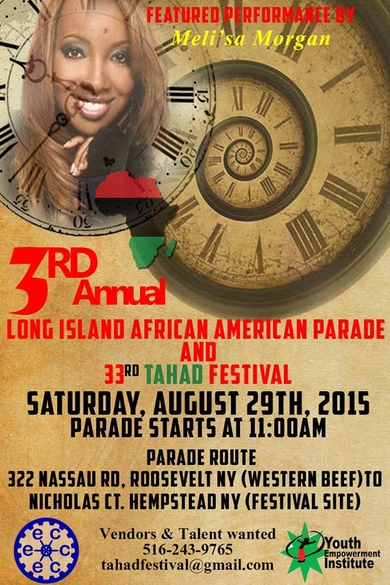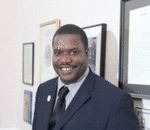 Posted By: phil andrews
Friday, August 21st 2015 at 6:51PM
You can also
click here to view all posts by this author...