HARRY don't continue to LIE ON GOD. What you heard was not GOD, but the devil himself coming to the weakest of us to spew that FALSE Prophecy and doctrine.
You are still in this false sleep that the evil one wants you in even after the proof is in front of you, you still wanted to side step this thought provoking question. The question that I asked you was in all the history of mankind, who was treated like this as prophesy for told? Now you want to tell me, who it was not.
Ok!!! let us look at the people you said it was not for a moment. It is you who said that it was not the Black American. ,
In The Holy Bible in The Book of Deuteronomy 28 states Cursed shalt thou be in the city, and cursed shalt thou be in the field. HARRY is this not happening to the Black Americans today?
Black Americans are having no peace in the cities of America or in the fields or the suburbs, gun death is at an all-time high, why because you are still turning your back on YAH. YAH said, The Lord shall send upon thee cursing, vexation, and rebuke, in all that thou settest thine hand unto for to do, until thou be destroyed, and until thou perish quickly; because of the wickedness of thy doings, whereby thou hast forsaken me. HARRY this is the Black American Today. We have been destroyed because we as a people don't remember who we are or who's we are. In The Book of Judges 8 King James Version (KJV) 34 And the children of Israel remembered not the Lord their God, who had delivered them out of the hands of all their enemies on every side.
Do you, Black American Remember what language you spoke before your bondage here in the America's? You don't remember that do you? No, because it was beat out of you.
Let us go on. 23 And thy heaven that is over thy head shall be brass, and the earth that is under thee shall be iron. In today's terms, this is your jail cell. More black American men and women are locked up today than ever before in disproportion to our population in The United States. That also means during slavery as well HARRY, This prophecy that was written in The Holy Bible is happening to you, Black American today! Why, because we continue to listen to other gods and not listen and hear the words of YAH and keep his commandments. Can you rebuke this FACT?
25 The Lord shall cause thee to be smitten before thine enemies: thou shalt go out one way against them, and flee seven ways before them: and shalt be removed into all the kingdoms of the earth. Wasn't this the Black slave man and woman that was moved to all the kingdoms including the America's, North America HARRY? Can you Rebuke this FACT?
30 Thou shalt betroth a wife, and another man shall lie with her: Did this prophecy happen to the Black America born as plantation slaves. This is what that plantation THUG would do to your wife Black American and told you, that he batter like your wife but if he did not like her, that he was coming back to whip both of your asses and there was not a damn thing you could do about it!!! . Did this not happen to our ancestors HARRY? Can you rebuke that FACT?
thou shalt build an house, and thou shalt not dwell therein: wasn't it your hands, that built many houses, including The Big House and The White House and you could not dwell with in it? Wasn't it your hands who planted that vineyard and shalt not gather or enjoy the grapes thereof? As a Black American you bet not touch those grapes? Isn't this prophecy talking directly to you Black American? Can you rebuke this FACT?
32 Thy sons and thy daughters shall be given unto another people, and thine eyes shall look, and fail with longing for them all the day long; and there shall be no might in thine hand. This book was talking to you, the Black American and you could do nothing, not a damn thing about it. Did this not happen to you black American? Can you rebuke this FACT?
37 And thou shalt become an astonishment, a proverb, and a byword, among all nations whither the Lord shall lead thee. this is talking directly about you ,the Black American, I am sure you been called coloured, BOY, COONE, UNCLE just to name a few and now you want to act brand new. I am talking about something that you lived, this is your life's history, Black American. Can you rebuke this FACT?
41 Thou shalt beget sons and daughters, but thou shalt not enjoy them; for they shall go into captivity. Did this not happen to you and your children, black American? Who did this happen to HARRY? Please don't tell me that this happened to some white Jewish people. What people did this happen too?
43 The stranger that is within thee shall get up above thee very high; and thou shalt come down very low. Now this is happening to this very day, an Arab can come into your neighborhood and buy up all the gas stations and small grocery stores and the liquor stores, the Chinese can come to your neighborhood and sell you cooked food and sell you beauty supplies and the Mexicans can come and repair your houses and cut your grass. Every one of those people I mentioned, all are strangers to you and are over you because you know full well that money talks and BS walks in this country. They all will take your monies out of your neighborhood's, leaving you Black American high and dry. They will profit off you by selling you and your children drugs, now every time you get a little money by robbing your own, you Black American will give it to them and now you are high and no good for anyone, not even to your family. That is a FACT HARRY, can you rebuke that? Is this now happening to The Black American Today?
Do you want to know why this is happening to you today? Is because you have turned your backs on YAH and started listening to other gods like you have done HARRY.
Do you want more proof that The Holy Bible is talking to the Black American, that YAH is still talking to his people?
Listen I got more proof that The Holy Bible is talking to you directly Black American and the evil spirit that came to you knows the truth to who's you are and he don't want you to know it because when you find out who you are, then you will stop listening to him and start back listening to The Most High and his days on earth is over, that is something that he knows well.
Now do you still say that The Holy Bible was not talking to the Black American? If not, then who?
No one has to LIE on The Most High God my Dim Lit Brother because it is no coincidence that The Holy Bible prophecies have been fore filled on YAH's people and you are here with me now as we go through YAH'S powerful words. The awesome power of YAH is at work here in these words Do you still need more proof that The Holy Bible was talking to Yah's people, you the Black American. Can you rebuke anything that I have said to you in this blog? If YAH was not talking to you, the Black American, then who was YAH talking to in The Book of Deuteronomy which are apart of the five law books given to Musa to give to his people, guess who?
Do you want to talk about a permanent solution to our situation, then lets talk.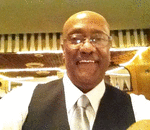 Posted By: Deacon Ron Gray
Tuesday, March 29th 2016 at 12:52PM
You can also
click here to view all posts by this author...