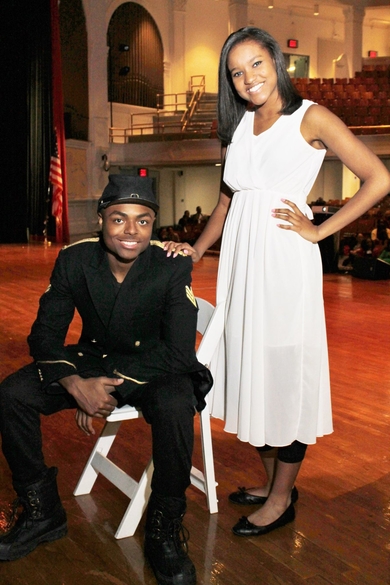 New York, New York - Author, Speaker and Veteran Television Journalist Cheryl Wills from NY1 News is telling the powerful story about her enslaved ancestor who fought for his freedom as a Soldier during The Civil War. Her great, great, great grandfather was the amazing Sandy Wills.
In a never seen before magnificent Children's Book based on documented facts, we learn that her beloved father, Clarence Wills, a Firefighter with the NYFD Engine 1 in Manhattan, New York left his wife and children. Shortly thereafter he died in a 1980 motorcycle accident at the age of 38. Cheryl Wills then 13 was left with a lot of questions that she sought and obtained answers for.
The "Emancipation of Sandy Wills" written by Cheryl Wills is sharing some of those answers. The Stage version of this awesome book is indeed Broadway bound.
COLBY CHRISTINA plays "Emma Wills" in a groundbreaking role in the first staged production of the children's book the "Emancipation of Grandpa Sandy Wills". Performing before a packed audience, Colby commands the attention of all in attendance as she carefully portrays some of the life experiences of the wife of Sandy Wills in a performance where there are no spoken words only narration by the great, great,great grand daughter
Cheryl Wills. When Sandy Wills returned to Haywood County after fighting in the Civil War he married a young woman named Emma, who had also grown up there on the Moore plantation as Emma Moore. Despite their hardships, the couple had nine children, and with each birth, Emma—who had been denied an education as a child, asked someone else (the Mooreland Plantation Owners Son, John) to inscribe her infant's names and date of births in her Bible each and every time one was born, since Sandy Wills and his wife Emma could not read and write.
Then tragically, Emma Wills in 1889 became a widow and was left with nine children from her marriage to Sandy Wills. Emma would soon discover that she was left to battle with the United States Government for a Widow's Pension that the white widows were receiving and that she was legally entitled to. Emma's determined battle with bureaucracy was long, but she fought back and hired a lawyer and received a pension for herself and her nine dependent children.
This masterful performance by AUDELCO "Rising Star", Colby Christina will go down in history along with the masterfully documented Narration by the Author, Distinguished Speaker and NY1 News Anchor the brilliant Cheryl Wills.
CHERYL WILLS - Cheryl Wills is an award-winning television personality for Time Warner Cable's flagship national news network, New York 1 News, based in New York City. She has been with the news channel since its launch in 1992 and she is the only journalist in her cable news network's nearly 25 year history to do a one-on-one interview with a sitting president: Nobel Laureate Ellen Johnson Sirleaf.
Cheryl is also the author of "Die Free": A Heroic Family Talewww.diefreethebook.com and the "Emancipation of Grandpa Sandy Wills" which traces her great-great-great grandfather Sandy Wills' courageous service in the Civil War as a member of the United States Colored Troops. Cheryl is also a blogger for the internationally renowned The Huffington Post and she contributes to Essence.
Her acting work has included playing herself in television shows like NBC's Law & Order SVU and major motion pictures such as Freedom Land, starring Samuel Jackson, and The Brave One, with Jodie Foster and Terrence Howard.
COLBY CHRISTINA - About Colby Christina – Actor, Singer, Dancer, Choreographer, Advocate, Model, Choreographer, Motivational Speaker and AUDELCO "Rising Star" Award Recipient.
COLBY CHRISTINA is a Professional Actor, Singer and Dancer and has trained professionally since the age of two. She has been labeled a formable "triple threat" nationally and internationally.
To her credit she has accomplished many "first" in the Arts and in Academia and is the recipient of many Awards, Citations, Proclamations and Honors. She is a 14 year old High School Sophomore fast tracked to complete High School at age 16.
Colby Christina has performed Center Stage at the Brooklyn Academy of Music, the Billie Holiday Theater, the Museum of Natural History, the Jamaica Performing Arts Center, the Waldorf Astoria, Black Spectrum Theater and the NYC Summer Stage, to name a few.
Prior to the "Emancipation of Grandpa Sandy Wills, Colby also appeared in the Lead Role of "Alice" in the Stage to TV Production, "The Liberation of Mother Goose", written by Playwright Aduke Aremu, Executive Producer-Director, Peggy Alston, Musical Director, Mario Sprouse and Director & Choreographer Abdel Salaam, COLBY CHRISTINA captured the attention of many in the Theatre World and beyond with this triple threat performance.
Upon receiving the AUDELCO, COLBY CHRISTINA now joins the ranks of Denzel Washington, Kerry Washington and Sanaa Lathan in receiving the "Rising Star" AUDELCO Award.
Check out =
http://www.broadwayworld.com/article/Photo...
For information about this spectacular young lady COLBY CHRISTINA, contact Team Colby Christina by calling 641-715-3900 ext. 25715 or by emailing, ColbyChristina529@gmail.com.
Photo Right: Colby Christina as Emma Wills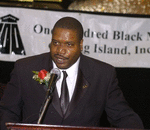 Posted By: phil andrews
Thursday, April 28th 2016 at 9:35AM
You can also
click here to view all posts by this author...