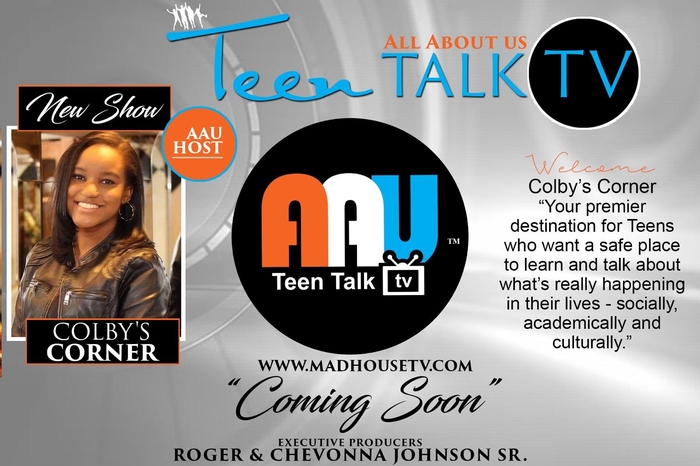 New York, New York – ALL ABOUT US - Teen Talk TV welcomes new show "Colby's Corner". "Your premier destination for Teens who want a safe place to learn and talk about what's really happening in their lives Socially, Academically and Culturally." Colby's Corner will air on MADHOUSETV.com and will also be available online for the launch. The Executive Producers of the show are Roger Johnson, Sr. and Chevonna Johnson. Roger and Chevonna Johnson, CEO/CFO Founders of AAU (All About Us) have established a Multi-Media enterprise for Youth. AAU is a Magazine, a Radio Show and a TV program showcasing and educating our Youth and Young Adults.
About: Colby Christina – Actor, Singer, Dancer, Choreographer, Advocate, Model, Choreographer, Motivational Speaker and AUDELCO "Rising Star" Award Recipient.
COLBY CHRISTINA is a Professional Actor, Singer and Dancer and has trained professionally since the age of two at the Restoration Center for Arts and Culture under the leadership of President Colvin Grannum and now Executive Director, Dr. Indira Etwaroo. Colby has been labeled a formidable "triple threat" nationally and internationally. To her credit she has accomplished many "first" in the Arts and in Academia and is the recipient of many Awards, Citations, Proclamations and Honors.
She is a 15 year old High School Junior fast tracked to complete High School at age 16. Her accomplishments to date have catapulted her to the National Stage at the National Black Theater Festival as Co-Chair and Parade Grand Marshall as well as to the Red Carpet at the Tribeca Film Festival as a Guest at the Oprah Winfrey Premiere of Greenleaf on the OWN Network.
Colby Christina has performed Center Stage at the Brooklyn Academy of Music, the Billie Holiday Theater, the Museum of Natural History, the Jamaica Performing Arts Center, the Waldorf Astoria, Black Spectrum Theater and the NYC Summer Stage, to name a few. Prior to the "Emancipation of Grandpa Sandy Wills" written by Cheryl Wills, NY 1 News Anchor, where Colby played Emma Wills and received a standing ovation for a performance where she spoke no words, Colby also appeared in the Lead Role of "Alice" in the Stage to TV Production, "The Liberation of Mother Goose", written by Playwright Aduke Aremu, Executive Producer/Director, Peggy Alston and Director & Choreographer Abdel Salaam. COLBY CHRISTINA captured the attention of many in the Theatre World and beyond with this triple threat performance.
Upon receiving the AUDELCO, for excellence in Black Theater, COLBY CHRISTINA joined the ranks of Denzel Washington, Kerry Washington and Sanaa Lathan who also received the "Rising Star" AUDELCO Award.
With September 2016 fast approaching, Colby will be a High School Junior and she is super excited as she prepares to start visiting more Colleges and Universities and has already been extended invitations by some great academic institutions to come on board as a student for the Freshman Class of 2018.
COLBY was recently honored by the NAACP with the "Youth Award", by the King of Kings Foundation with the "A Star Has Risen Award" (This Award Will Be Given Annually and has Been Officially Named the "COLBY CHRISTINA A STAR HAS RISEN AWARD), honored by the Trey Whitfield Foundation as a "Academic Honoree" and Colby was Honored by Black History Memorabilia with their "Excellence in Theatre Youth Award".
COLBY is always applauded at all of the events for also being a person that always giving back to her Community, Corporations and Individuals with her time and passion and willingness to always help others. She also loves teaching and mentoring "her babies" (the 3 and 4 year olds and the 8 to 11 year olds) at the Restoration Center for Arts and Culture where she serves as Student Ambassador.
As of July 2016, Colby now serves as an Intern at Black Spectrum Theater, a Dance Intern at Evidence Dance Company and is a new Impact Repertory Theater Member.
Colby's Entertainment and Arts goal and dream is to be a household name and appear on television, in movies and to perform on Broadway.
Check out more information about this spectacular young lady COLBY CHRISTINA by clicking logging on to
http://www.colbychristina.com
or by contacting Team Colby Christina by calling 641-715-3900 ext. 25715 or by email at ColbyChristina529@gmail.com.
#colbychristina #teamcolbychristina #television #teenager #talk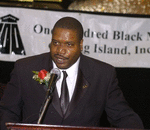 Posted By: phil andrews
Wednesday, August 17th 2016 at 8:15AM
You can also
click here to view all posts by this author...