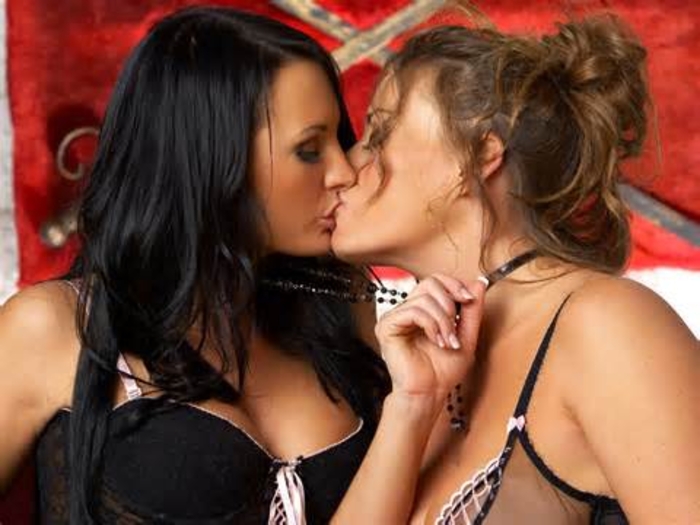 LGBTQ NEWS : Lesbianism has become a new trend in the black community, and many of todays black youth are rapidly joining in. But the problem here is that lesbianism is " not a trend " as it is being transformed into by the ignorant. Lesbianism is a lifestyle or s*xual preference in which you are " born into " - not something you can be initiated into.
A woman doesn't become a lesbian after having bad relationships with men , a true lesbian is born a lesbian. A true lesbian finds it homos*xual to have any s*xual contact with a man whatsoever. This is something black women don't understand about the lifestyle and because of that the true meaning of lesbianism is getting lost in the ignorance.
Black women see lesbianism as an " alternative " and it is not an alternative to men, it is a desire you have to be born with or you not really a lesbian. Since black women have started to embrace lesbianism, they have distorted this truth with their own idea of lesbianism.
In the black community lesbianism it is thought of as a trend like a new style of clothing, and like all trends it will soon pass. But what will be left after it has ended is a distorted view of lesbianism all together. And true lesbians will be left to clean up the mess that this misrepresentation is leaving in the minds of the people.
Black women are redefining how lesbianism is perceived , because they are promoting an image of a woman who wants to be "masculine ". And that is not true lesbianism at all, a true lesbian is feminine and loves her womanhood - and is simply attracted to other women. True lesbians are not " bi-s*xual " because true lesbians are born having no emotional or s*xual interest in men.
But black women perceive it very differently, they feel that you can be a lesbian even after being involved with men. They also have the false idea that if you're a lesbian then you must become masculine. And many simply become lesbians for the s*xual thrills - not for any emotional attachment.
They have created their own idea of lesbianism and promoting it as if it where the authentic concept - which is confusing our youth who are not educated on the subject.
Many believe that black women have no place in the lesbian community because of this, because their portrayal un-dignifies what was once pure. Until black women started calling themselves lesbians the lesbian community existed in silence and was just as dignified as heteros*xuality.
But now it has become something " filthy " because they have mixed it with hip-hop and all the indecencies of black thinking. Now the true lesbians are being associated with this trashy perception of lesbianism created by black women and their fight for equality has been put in serious jeopardy.
It is becoming a fact that anything blacks associate themselves with they destroy - and just as many lifestyles began as something dignified. When ignorant black people get involved they distort it into something un-dignified.
And just as they destroyed conscious hip hop with gangsta rap , their involvement in the LGBTQ community will soon end in ruin as well. A line must be drawn in the sand as to what is true lesbianism and what is " Black " lesbianism - before their can be no distinction made between the two.
Want To Learn Lesbianism ORDER ( The Lesbian Bible )
Online @
https://www.createspace.com/5287381
Posted By: The Church of Black Syientology Inc.
Tuesday, January 31st 2017 at 2:02PM
You can also
click here to view all posts by this author...