Long Island, NY - February 2, 2017 - International Women's Day Conference set to bring together the regionís top women influence across a variety of industries on March 11, 2017 at Hofstra University. The International Womenís Day Conference is a celebration of the achievements of women. The conference aim is to inspire women while celebrating our social, economic, cultural and political achievements.
This event will be hosted by Dr. Neva, a Global Leadership, and Education Specialist. Proceeds from the conference will be donated to National Educational Venture Alliance a non-profit organization to assist international students with gap funding.
The Long Island African American Chamber of Commerce
http://www.liaacc.org
is actively involved in the preparation of the first International conference of its kind on Long Island. The event will take place on March 11, 2017, from 11 am to 4:00 pm, at Hofstra University. Women and adolescents are invited to join in a day of development, education, and entertainment. We are still working on additional speakers. The keynote speaker is Legislator Siela Bynoe.
Other speakers include, Dr. Neva, an internationally renowned leadership, culture, and diversity expert. Roslyn Goldmacher, ESQ an expert on finance for women, Dr. Corrinne Graham, business consultant, Georgia Woodbine, career, and lifestyle coach, Judy Donaldson, a wellness consultant, Danielle Donaphin, Lead Consultant & Coach and Rachel Spencer Self-esteem and lifestyle coach.
About: Legislator Siela A. Bynoe, Keynote Speaker: Siela A. Bynoe became Nassau County Legislator for the Second Legislative District after winning a February 11 special election to fill a vacancy left by Robert Troiano in early 2014. Siela is a 40-year resident of Nassau County and Westbury resident.
Legislator Siela Bynoe is a graduate of Westbury High School, has an Associate's Degree in Liberal Arts from Nassau County Community College, Bachelor's in Psychology from Hofstra University and Master's in Public Administration from C.W.Post, Long Island University. Siela has a diverse career background that has allowed her to work in the private and public sectors, as well as not-for-profit.
Siela's work in the private sector included workings as mortgage loan consultant and a credit loan officer, where she administered her bank's commitment to the Community Reinvestment Act. She then moved on to work for the Long Island Housing Partnership and established their Nassau County branch in Hempstead. It was there that Siela helped secure and disburse $3 million in aid for first-time home buyers over three years, and began to be a housing advocate. She then entered the public sector, where she became Assistant Director of the North Hempstead Housing Authority, and then moved on to become Executive Director of Huntington Housing Authority in 2006. Siela also served until recently as a Commissioner for the North Hempstead Housing Authority. Working in housing, Siela has worked with her colleagues to secure over $40 million to rehabilitate some of Long Island's oldest affordable communities.
Legislator Siela Bynoe is excited to serve following in the footsteps of her predecessor Robert Troiano. Siela intends to make health issues, government accessibility, economic development and affordable housing a priority focus. She looks forward to serving the great communities of Hempstead, Lakeview,Westbury, New Cassel, Hicksville, Uniondale, Rockville Centre and East Garden City. Legislator Bynoe serves on the following legislative committees; Minority Affairs (Ranking), Health & Social Services, Government Services & Operations and Economic & Community Development.
For more information email or visit
https://www.nevalliance.com/international-...
About Dr. Neva - Dr. Neva Helena Alexander prefers to be called Dr. Neva. It is a name that she adopted in Saudi Arabia where it is customary in their culture to be called by one's first name. Beyond academia, she has a global entrepreneurial spirit. Dr. Neva is the Founder of the National Educational Venture Alliance (NEVA) which helps to support international students to study in the USA through sponsorship; she is also the founder of NEVA test prep. Her area of expertise is leadership and is particularly a professional in gender and cross-cultural issues as it relates to leadership. She has vastly traveled the globe to several countries namely England, Greece, Spain, France, Italy, Nigeria, Egypt, Kenya, Malaysia, China, Saudi Arabia, UAE, Bahrain, Kuwait, Canada, Antigua, Cayman, Bahamas, Barbados, St. Lucia both for professional purposes and her interest in learning and understanding other cultures. This kind of exposure fully compliments her expertise in understanding different cultures and thus being a great asset in managing cross-cultural diversity.
Dr. Neva has taught leadership to females in Saudi Arabia where she worked as a faculty and Associate Chair for the College of Arts and Science Female Campus at Prince Mohammad University in the Kingdom of Saudi Arabia. Also, she is an Adjunct Assistant Professor for City of New York University SPS Program. She received her doctorate in education leadership from Argosy University, a Master of Arts in Social Science from Long Island University, and a Bachelor of Arts from John Jay College of Criminal Justice where she majored in legal studies.
Dr. Neva has organized networking events and created public relations exposure for businesses and professionals who have been unable to utilize the many marketing internet opportunities within their local communities, nationally and internationally. In addition to being an educator in the classroom, she trains and coaches people from every walk of life and profession. She has published educational research and is the author of Femalesí Guide to Understanding Leadership and #Risingleaders.
To purchase your ticket today or to get more information on vendor registration or sponsorship opportunities log on to
https://www.nevalliance.com/international-...
Photo: Legislator Siela A. Bynoe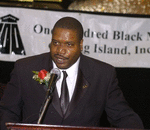 Posted By: phil andrews
Thursday, February 9th 2017 at 11:48AM
You can also
click here to view all posts by this author...