GRACE IT IS A BEAUTIFUL HAPPINESS!
Mornings are particularly happy because it can present a new start, a new beginning to make another day of life more fulfilling. A mind and heart are refreshed to love God and allow His love to pour over the cup of happiness in the holiness of His wonderful Spirit of Love. One find the beautiful happiness. If this is not the life style of your happiness, there may be cause you may not feel happy but have worry, distress, and uncertainty along with confusion and negativeness that cause loss of your receiving a clear happiness in being alive. Happiness is a love's duty. Love in you and love in God. God always promotes those to love Him and be happy in his making of life's days. Why pass up the chance? A morning happiness is well with your soul.
MY DEAR GOD OF LOVE
MY GOD OF A NEW BEGINNING
MY GOD OF LOVE
MY GOD OF WONDERFUL SPIRIT OF LOVE
AND A CLEAR HAPPINESS EACH MORNING
--MIISRAEL
A WOMAN AND A BRIDE OF VIRTUE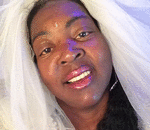 Posted By: MIISRAEL Bride
Friday, April 14th 2017 at 9:20AM
You can also
click here to view all posts by this author...