CELEBRATE YOUR NEXT STOP. . . .
TODAY:
IS
TWILIGHT ZONE DAY. . ..
First Episode of the television show aired on October 01, 1959
Rod Serling is ready to see you get the episodes. .. of THE TWILIGHT ZONE!!
Watch re-runs. Or let them watch you. . . CELEBRATE IT!
EVERYDAY HAS CELEBRATION AND GLADNESS
GOD HAS THE TWILIGHT ZONE!!!
"There's that fish again. . .:
Haaaa!
Wonder where's the fox? Oh, He is in the May Flowers. . .with the fox gloves.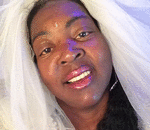 Posted By: MIISRAEL Bride
Thursday, May 11th 2017 at 12:21PM
You can also
click here to view all posts by this author...