MINI- SINNINGIA
Mini-Sinningias are the tiniest of indoor flowering plants,
They can flower continuously in a terrarium or light garden,
and grow in containers as small as a thimble.
(Success with House Plants@All Rights Reserved)
SO SMALL OF BEAUTIES
So small of beauties art thou
tiny Sinningia.
My heart grew larger in viewing you..
For in every thing great or small
has Our Creator's hands that made
them all.
No wonder great things are in small packages
and fit so well..
For as little children shall in heaven shall dwell. . .
I am also small and eagerly I grow up in glory;
because of God's delights with Winniespoetry...
--MIISRAEL
WINNIESPOETRYMAYFLOWERSMAY2017Copyrighted.
MAY FLOWERS:
presented by MIISRAEL
A wonderful fit is with small and beautiful flowers. . .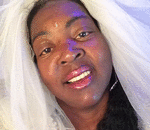 Posted By: MIISRAEL Bride
Friday, May 12th 2017 at 9:28AM
You can also
click here to view all posts by this author...