The controversial patriarch of the Ball family, LaVar and sons Lonzo, LiAngelo, and LaMelo go "SNEAKER SHOPPING" with host Joe La Puma at Flight Club in Los Angeles, and talk about their nearly $500 sneakers and Big Baller Brand. In the episode, top NBA prospect, Lonzo Ball opens up about how he, alone, designed the sneaker in just a few hours by drawing inspiration from several of the shoes currently on the market that he wears. Brothers LiAngelo and LaMelo weigh in on their top sneaker picks and on how loyal they intend to be to the Big Baller Brand when choosing what sneakers they wear next season. LaVar continues to fiercely defend his hotly debated statements on fans ability to be considered a true "baller" if they cannot afford to purchase the ZO2s and gives his projection on how successful he anticipates launch will ultimately become.  
NOTABLE QUOTES:  
"A shoe is not that big of a deal - it's stitching and glue." – LaVar Ball
"Don't go to Rolls Royce talking about you need a Toyota." – LaVar Ball on the price of the ZO2s
"Designing it didn't take too long. Took about 3 or 4 hours." – Lonzo Ball on creating the ZO2s by himself
"I'm not obsessed with the sales. Zo's shoe is symbolic." – LaVar Ball on the success of the ZO2s
"Did Kanye slam dunk or crossover for that shoe to come out?" – LaVar Ball on the price of Yeezys
"We want co-branding. I need the VPs & CEOs, just like I am." – LaVar Ball on talks with sneaker brands  
SNEAKER SHOPPING, the #1 sneaker show on YouTube, features some of the biggest names in music, sports and pop culture including Kevin Hart, 50 Cent, A$AP Rocky, Amber Rose, Usher, WWE's Shane McMahon, Chris Rock, former Seattle Seahawk Marshawn Lynch, DJ Khaled, and New England Patriot's owner Robert Kraft. The show, averaging nearly 2 million views per episode, airs on Complex.com and YouTube.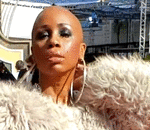 Posted By: Tanisha LaVerne Grant
Monday, June 5th 2017 at 1:50PM
You can also
click here to view all posts by this author...