HARLEM, NY – June 15, 2017 – Monday evening, the Apollo Theater celebrated its 12th Annual Spring Gala, raising over $2.2 million for its year-round artistic and community programming initiatives. The concert portion of the evening was hosted by Cedric The Entertainer, and opened with a rousing musical performance by CeeLo Green. The concert also featured incredible performances by Trombone Shorty, Sheila E., who sang her hit song "Glamorous Life"; rising star vocalist Wé McDonald of NBC's The Voice, who previously won Amateur Night; and Charlie Wilson, who gave a show-stopping rendition of his classic "Outstanding." The concert culminated with a New Orleans-style second line out of the theater to "When the Saints Go Marching In."
Every year as part of the evening, the Apollo recognizes individuals and corporations for their outstanding contributions to the performing arts, community leadership, and philanthropic support of initiatives in the African American community. Last evening, Apollo Board members and Gala chairs Robert Kraft and Charles Phillips presented the award to VERIZON's Rose Kirk, Chief Corporate Social Responsibility Officer who accepted the Corporate Award in recognition of the company's exemplary leadership in diversity, community leadership, and innovation.
The Theater also presented Peabody Award-winning director and producer Stan Lathan with the Trailblazer Award for his substantial contributions to the performing arts. Lathan's extensive credits include cultural classics ranging from "Amen" and "Sanford & Son," to "Def Comedy Jam" and "The Bernie Mac Show," to Dave Chappelle's recent comedy special, "Deep in the Heart of Texas."  Cedric The Entertainer and the Apollo's new Executive Producer Kamilah Forbes presented the award to Lathan.
The night culminated with a much-buzzed-about after-party held in a stylish New Orleans-themed tent created by celebrity event planner and Apollo board member Bronson Van Wyck. Guests danced to the sounds of the celebrated DJ D-Nice and sipped on cocktails provided by Belvedere.
Apollo Spring Gala Chairs included: Robert K. Kraft, Laura and Richard D. Parsons, Ronald O. Perelman and Anna Chapman, and Karen and Charles Phillips.
Apollo Spring Gala Vice Chairs included: 21st Century Fox, Katherine Farley and Jerry I. Speyer, and Christine Taylor.
The 2017 Apollo Spring Gala was made possible with generous support from 21st Century Fox, American Airlines, Belvedere Vodka, Katherine Farley and Jerry I. Speyer, Robert K. Kraft, Ronald O. Perelman and Anna Chapman, Karen and Charles Philips, and the Verizon Foundation
About the Apollo Theater
The legendary Apollo Theater—the soul of American culture—plays a vital role in cultivating emerging talents and launching legends. Since its founding, the Apollo has served as a center of innovation and a creative catalyst for Harlem, the city of New York, and the world.
With music at its core, the Apollo's programming extends to dance, theater, performance art, spoken word initiatives, and more. This includes the October 2014 premiere and 2015 international tour of the dance celebration project James Brown: Get on the Good Foot, the annual Africa Now! Festival, Apollo Club Harlem, and the recent New York premiere of the opera Charlie Parker's YARDBIRD. The Apollo is a presenting organization that also produces festivals, large-scale dance and music works organized around a set of core initiatives: Apollo Music Signature Programs—Amateur Night, Salon Series, Apollo Music Café; Legacy Series—work that celebrates and extends the Apollo's legacy through a contemporary lens; global festivals including the Women of the World (WOW) F
Festival and Breakin' Convention, international and U.S.-based artist presentations focused on a specific theme; and Special Projects, multidisciplinary work with partner organizations.  
Since introducing the first Amateur Night contests in 1934, the Apollo Theater has served as a testing ground for new artists working across a variety of art forms, and has ushered in the emergence of many new musical genres—including jazz, swing, bebop, R&B, gospel, blues, soul, and hip-hop. Among the countless legendary performers who launched their careers at the Apollo are D'Angelo, Lauryn Hill, Machine Gun Kelly, Miri Ben Ari, Ella Fitzgerald, Sarah Vaughan, Billie Holiday, James Brown, Michael Jackson, Gladys Knight, Luther Vandross, and Stevie Wonder; and the Apollo's forward-looking artistic vision continues to build on this legacy.  
The Apollo Theater is a not-for-profit organization with the mission to extend the institution's role in fostering artistic innovation and in building appreciation of American culture around the world. For more information, visit
www.apollotheater.org.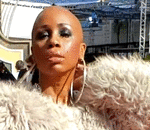 Posted By: Tanisha LaVerne Grant
Friday, June 16th 2017 at 1:34AM
You can also
click here to view all posts by this author...