WAR FOR THE PLANET OF THE APES
ENTERTAINMENT CORRESPONDENT TANISHA LAVERNE GRANT hit the red carpet at SVA theater Monday night for the New York City PREMIERE for 20TH CENTURY FOX " WAR FOR THE PLANET OF THE APES" Caesar (Andy Serkis) and his apes are forced into a deadly conflict with an army of humans led by a ruthless colonel (Woody Harrelson). After the apes suffer unimaginable losses, Caesar wrestles with his darker instincts and begins his own mythic quest to avenge his kind. As the journey finally brings them face to face, Caesar and the colonel are pitted against each other in an epic battle that will determine the fate of both of their species and the future of the planet.
"WAR FOR THE PLANET OF THE APES OPENS NATIONWIDE JULY 14TH.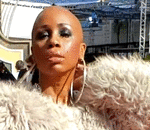 Posted By: Tanisha LaVerne Grant
Thursday, July 13th 2017 at 10:34PM
You can also
click here to view all posts by this author...