D i c k Gregory, groundbreaking comedian and activist who ran for Chicago mayor, dies at 84
By Dennis McLellan --
In the late '60s, he began going on 40-day fasts to protest the Vietnam War.
In 1980, impatient with President Carter's handling of the Iranian hostage crisis, he flew to Iran and began a fast, had a "ceremonial visit" with revolutionary leader Ayatollah Ruhollah Khomeini and met with the revolutionary students inside the embassy. After four and a half months in Iran, his weight down to 106 pounds, he returned home.
But before D i c k Gregory the activist, there was D ick Gregory the groundbreaking comedian.
Please Copy: D ick Gregory, groundbreaking comedian and activist who ran for Chicago mayor, dies at 84
PASTE THAT INTO YOUR ADRRESS BAR TO SEE THE FULL ARTICLE.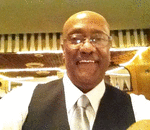 Posted By: Deacon Ron Gray
Sunday, August 20th 2017 at 10:49AM
You can also
click here to view all posts by this author...