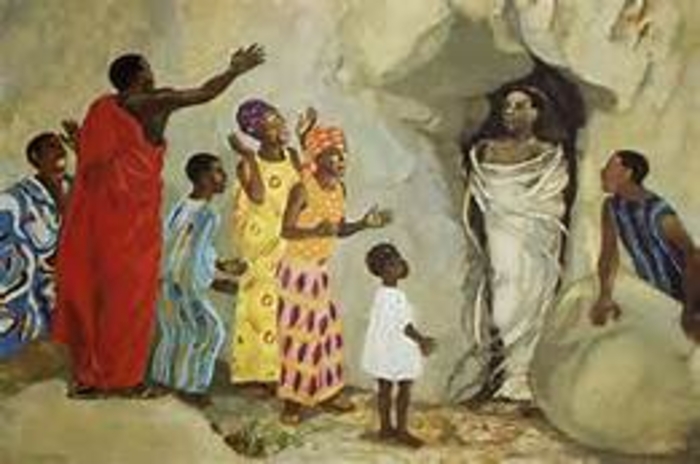 John 11:40 Jesus saith unto her, Said I not unto thee, that, if thou wouldest believe, thou shouldest see the glory of God?
41 Then they took away the stone from the place where the dead was laid. And Jesus lifted up his eyes, and said, Father, I thank thee that thou hast heard me.
42 And I knew that thou hearest me always: but because of the people which stand by I said it, that they may believe that thou hast sent me.
43 And when he thus had spoken, he cried with a loud voice, Lazarus, come forth.
44 And he that was dead came forth, bound hand and foot with graveclothes: and his face was bound about with a napkin. Jesus saith unto them, Loose him, and let him go.
Emma Lazarus (1848-1887)
SÜSSKIND. Brethren, our prayer, being the last, is granted.
The hour approaches. Let our thoughts ascend
From mortal anguish to the ecstasy
Of martyrdom, the blessed death of those
Who perish in the Lord. I see, I see
How Israel's ever-crescent glory makes
These flames that would eclipse it dark as blots
Of candle-light against the blazing sun.
We die a thousand deaths, drown, bleed, and burn;
Our ashes are dispersed unto the winds.
Yet the wild winds cherish the sacred seed,
The waters guard it in their crystal heart,
The fire refuseth to consume. It springs,
A tree immortal, shadowing many lands,
Unvisited, unnamed, undreamed as yet.
Rather a vine, full-flowered, golden-branched,
Ambrosial-fruited, creeping on the earth,
Trod by the passer's foot, yet chosen to deck
Tables of princes
Posted By: TEST TEST
Monday, August 21st 2017 at 3:54PM
You can also
click here to view all posts by this author...