YOU WILL LOOK AT SPLENDORS. . .
WEAR A FESTIVE DRESS:
Spreading the happiness that the Love of
God brings gave a spiritual day of smiles
and heart's comfort. I live to love in the
example of being joyful every where I
go. People have tendency to notice a joyful spirit. . .
--MIISRAEL
WINNIESPOETRY THE BRIDE IS HERE November 2017 Copyrighted.
"So I say, live by the Spirit,
and you will not gratify the
desires of the sinful nature."
--Galatians 5: 16 : NIV
WEAR A FESTIVE DRESS
presented by THE WORD with MIISRAEL
NOVEMBER 2017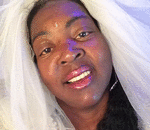 Posted By: MIISRAEL Bride
Saturday, November 18th 2017 at 8:20PM
You can also
click here to view all posts by this author...