YOU WILL SEE THE SPLENDORS NOW. .
WEAR A FESTIVE DRESS:
Dressed in a splendor, I put on a festive dress.
I am waiting the miracle of promises...
A wedding, for the Bridegroom Cometh;
The Bride is Here!
Promises will explode with My God of Love!
It is volcanic!
--MIISRAEL
WINNIESPOETRY THE BRIDE IS HERENov2017
" For nothing is impossible with God"
Selected from Luke : 1 :37 NIV
WEAR A FESTIVE DRESS
presented by THE WORD with MIISRAEL
NOV 2017
THANK YOU FOR READING WITH ME !
This concludes the entries of November 2017 Wear a Festive Dress. What a most enjoyable share of God's Word. I hope you were inspired to dress up! Mind, body, soul and Spirit! The inspiration was intended for a positive uplifting of your whole armor of faith. Dress well.
--MIISRAEL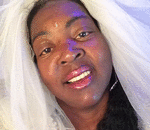 Posted By: MIISRAEL Bride
Thursday, November 30th 2017 at 12:58PM
You can also
click here to view all posts by this author...