I Rejoice!
O' HEAVEN FATHER:
My soul is in rejoicing,
I sing in a glorius praise.
You make my paths clear
and supply my shoes for walking
on the rocky grounds.
I send a rejoicing sound from my soul
and a joyful praise I give thanks continually
in the break of the day,
and the the turn of the night.
My happiness is not interrupted .
When I am still I rejoice!
When I am moving I praise!
Because of my stability in Thee
I rejoice a glorious praise!
My praise is applied with love
and in love I rejoice the passions from
my Spirit.
I rejoice greatly O' Lord
for Thy power, glory, and forever!
Rejoice in a glorious Praise!
in
Jesus
Amen
--MIISRAEL
WINNIESPOETRY THE BRIDE IS HEREDec2017
"Sing forth the honour of his name: make his praise glorious."
-Psalm 66 2 KJV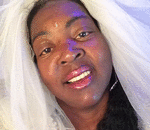 Posted By: MIISRAEL Bride
Sunday, December 3rd 2017 at 9:47AM
You can also
click here to view all posts by this author...