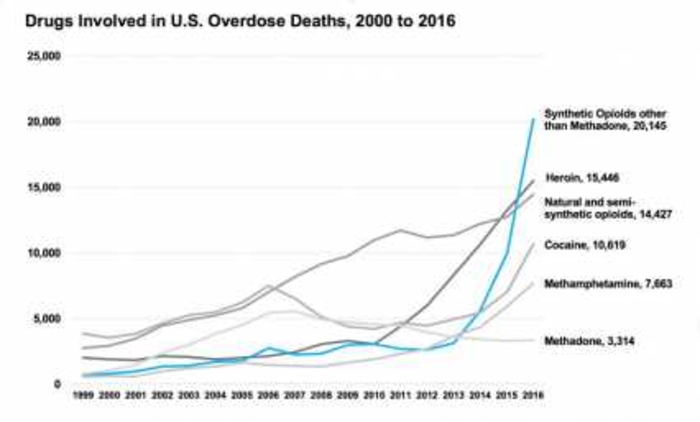 From The Ramparts
Junious Ricardo Stanton
The US Opioid Crisis
"Drug overdose is the leading cause of accidental death in the US, with 52,404 lethal drug overdoses in 2015. Opioid addiction is driving this epidemic, with 20,101 overdose deaths related to prescription pain relievers, and 12,990 overdose deaths related to heroin in 2015."
https://www.asam.org/docs/default-source/advocacy/opioid-addiction-disease-facts-figures.pdf
It's been about three years since I wrote something on the opioid epidemic ravaging this nation. It first came to my attention about when I was preparing to be a guest on a radio program to discuss the riots in Baltimore following the Freddie Gray death at the hands of the Baltimore police. I was researching some demographics about the drug use in Baltimore when I saw an article stating the newest demographic for heroine and opiate addiction were white women and whites between the ages of 25-53. Unlike inner city addition these new addicts were mostly rural whites. I discovered whites in rural Maryland were experiencing a huge spike in overdoes and death so much so, Maryland State Police were carrying the drug Naloxone to prevent overdoses.
Subsequently I started noticing similar reports in states like Vermont, Ohio and West Virginia and I realized the opioid epidemic's main victims were white folks. Today the overdose epidemic is so pervasive you routinely hear public service announcements on local and national radio and television stating addiction is a disease that help is available. When opium, heroine and alcohol were being dumped in the barrios, Indian reservations and ghetto communities in the 50's, '60's 70's 80's, 90's, into the twenty-first century nothing like this was said.
Now that escalating numbers of white people are getting strung out and dying, drug addiction is a public health crisis, not a judgment on the morality and worth of the addicts like it was when the CIA and Mafia were dumping drugs in our communities! But it was the Black and Brown users not the white users or importers who were targeted for arrest and incarceration under a totally bogus "War on Drugs". Now that whites are the majority being strung out the official mantra is, "we can't arrest our way out of this problem." What a difference pigment makes in the way policies are made and monies appropriated.
When I spoke on the radio program about Baltimore I provided relevant historic background. I noted the Karmic irony that Baltimore was a bustling port city that was the port of export for tobacco, an extremely addictive substance back to Europe in the eighteenth century. Baltimore was also an entry point for kidnapped Africans who were herded into and held in pens on Pratt Street until they could be sold and shipped elsewhere.
Later Baltimore became an entry port for European immigrants coming from traumatized background situations created by European elites in Ireland and Germany.
This mix of traumatized persons led to racial animus, conflict and state sanctioned repression especially of Blacks. I talked about the devastating impact of deindustrialization on the region, the scourge of illicit drugs like heroine and crack cocaine had on Baltimore but that now Mexican opium and opioid pain killers were on the rise in the suburbs and wrecking havoc in the rural areas of Maryland. I pointed out this was not being covered by the corporate media.
Since then I've causally followed the rise of opioid addiction and overdoses but paid close attention to the different public policy pronouncements and priorities now that whites are succumbing to heroine and opiate drugs. The US is experiencing a real crisis and public health officials, politicians and sociologists are extremely concerned because of the rising addiction, overdose and death rates.
Overzealous prescription writing by doctors, imploding socio-economic conditions and the profit motive are fueling a devastating increase in death and bondage to synthetic opioids and heroine. "The rate of heroin-related overdose deaths nationwide has nearly quadrupled since 2002. An estimated 30,000 people die every year from opioid overdoses. But unlike drug epidemics of the past, minority populations have seen a less dramatic increase in drug addiction and deaths compared to young white adults. The rate of heroin use among white adults increased by 114% between 2004 and 2013, according to the Centers for Disease Control and Prevention. The rate among nonwhite adults remained relatively unchanged during that same period…The stark rise in addiction can be traced back to the increased use of prescription pain relievers such as OxyContin and Vicodin. Prescriptions for opioid analgesic medications have skyrocketed since the introduction of OxyContin in the mid-1990s. In 2012, the number of prescriptions written for opioid drugs reached 259 million. Regulators only a few years ago began implementing stricter limits on the number of pain pills doctors could prescribe, which resulted in lower prescribing rates for opioids, but also led to a subsequent rise in heroin use, a cheaper and easier alternative to prescription pain medicines." The racial divide in the opioid epidemic. Steven Ross Johnson
http://www.modernhealthcare.com/article/20160227/MAGAZINE/302279871.
Public health officials are concerned about the causes and outcomes of the epidemic. Overdoses are at an all time high. "Opioid prescribing continues to fuel the epidemic. Today, 40% of all U.S. opioid overdose deaths involve a prescription opioid. In 2016, more than 46 people died every day from overdoses involving prescription opioids… Overdose is not the only risk related to prescription opioids. Misuse, abuse, and opioid use disorder (addiction) are also potential dangers. In 2014, almost 2 million Americans abused or were dependent on prescription opioids. As many as 1 in 4 people who receive prescription opioids long term for non-cancer pain in primary care settings struggles with addiction. Every day, over 1,000 people are treated in emergency departments for misusing prescription opioids."
https://www.cdc.gov/drugoverdose/data/overdose.html
Go to
https://www.asam.org/docs/default-source/advocacy/opioid-addiction-disease-facts-figures.pdf
to see a comprehensive report on opioid addiction.
It is unlikely the social conditions fueling the personal and collective depression, despondency, helplessness, alienation and pain will abate any time soon. As a people we have to call upon the resiliency of our ancestors and tap into the well of energy within ourselves and use our imagination to vision and fashion a lives, environment and world worthy of our innate and intrinsic genius and being. Greater is that which is inside us than that which is in the world.
-30-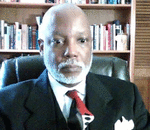 Posted By: Junious Stanton
Monday, January 29th 2018 at 12:57PM
You can also
click here to view all posts by this author...