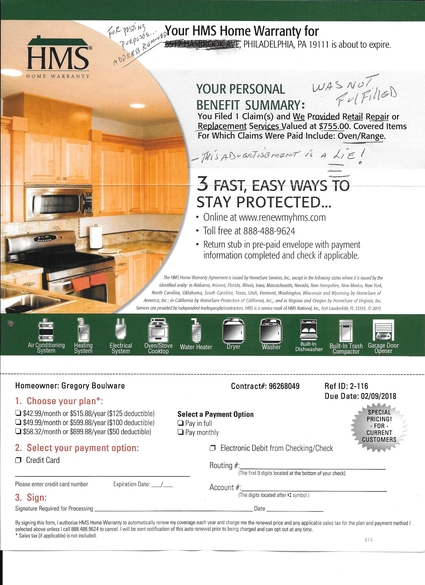 /*
'The Hype Of Home Appliance Protection Services,' An Exposé
By
Gregory V. Boulware, Esq.
http://blackwomenconnect.com/content/331786/the-hype-of-home-appliance-protection-services-an-expos
Home Appliance Service(s) Contractors have been exposing us all of their existence, of late, via Radio, Television, Newspaper, Internet, and various platforms and advertisement venues. They boast and promise to alleviate us of the anxiety and dollar loss in the advent of one or all of our everyday home appliances fails to perform or simply break down. How many of us believe the hype? Do you believe it? Have you signed up for one of the offered protection contracts? If you have, how or what was your experience in filing a claim? Was it successful? Were you pleased with the service protection?
I'd like to share with you, one such particular experience to the question(s).
My Wife and I, recently purchased a home. After settlement procedures were completed, the offer of a "Home Appliance Protection Insurance Plan" was thrown into the pot. The idea at the time seemed to make a lot of sense. So, we signed up and believed that everything would be alright...until it wasn't.
Half-way into the year of ownership of the property, we began to experience several malfunctions. Minor problems within the first year of a new home are (and were) to be expected. After all, we were protected. What did we have to worry about?
Six months into the home, water was noticed on the basement floor. We could not find the source. Then a few days after the notice, the culprit revealed itself. A tiny pin-hole from an overhead pipe beneath the first floor and ceiling of the basement in the laundry-room, dampened the floor and our heads as well. Of course we attempted to make the corrections on our own to no avail. Like any plumbing problem, it got worse. Alas, a call was made to a plumber and the protection agency. The plumbing issue was corrected and I paid them out-of-pocket. I wasn't worried because I knew that I would be reimbursed by the protection agency.
The instruction(s) received from the contact said to forward any and all information regarding the claim to the administration office for review and processing. Immediate compliance was followed.
Meanwhile, during that same week, we discovered the 'electric' oven/stove/range was not operating. The top burners malfunctioned, but began to operate once they were removed and cleaned thoroughly and then returned to the proper receptacles. However, the oven refused to do anything at all. The protection agency was again contacted. The instructions were to forward any and all information pertaining to the claim(s) at hand. Immediate compliance (telephone contact and email communication) was followed.
A few weeks passed, an email and telephone call were made to inquire regarding the progress our claim. The email was replied to with instructions to make contact with a representative. There was contact made with several representatives before this instruction was given. Conceding to direction(s), the call was made. We found ourselves right back to square one of the claims procedure(s).
When we neared the end of our one year contract, this 'Home Appliance Protection Services Company, "HMS," had the unmitigated gall to print an advertisement with our home address on it; stating that we had been given a new electric stove/oven/range with a cost valuing $755.00! We were livid! How dare they print such a lie! ...However, they did print it and send it to us. I don't know what they expected us to do with it? Did they think that it would encourage us to re-new the dishonored contract? Oh yes, they have sent us quite a few notices stating the nearing of the old contact. So, I've decided to share this particular experience just in case someone else is or has gone through this sort of situation.
There have been several people who've made it clear (to me) that they would never again sign another contract with anyone selling such services. They have shared and expressed how disappointed they were when basically the same thing has happened to them. One of these people was a 'land-lord' who owned several properties. He thought that he could protect himself with such a protection service for his rental units and his own home as well. He was adamant about his never returning to such and insurance practice. "I was better off taking care of the broken appliances myself; out-of-pocket! Not only did they refuse to honor the contract(s), they had the nerve to offer a less than satisfactory solution to the losses suffered!"
Not good for the reputation to those practicing in such an industry, huh?
The good part is that we didn't have to pay for the initial ($500.00) cost of the contract. The premium was paid for by the Realtor(s) who aided in the purchase of our home. We only paid for one of the two technicians who examined the stove at a cost of $100.00. Both of the tech's stated that the stove suffered an electrical short in its circuitry and could not be repaired or replaced.
Caviet Emptor!
"Let The Buyer Beware!"
It means that a customer should be cautious and alert to the possibility of being cheated: "Caveat Emptor," is the first rule in buying a used automobile.
We, (My Wife and I), currently have little faith in the services of such an industry and have made plans to replace the appliance (out-of-pocket) ourselves. Much luck to those of you who hold such household-appliance protection plans.
Oh, 'by-the-bye,' the discussion of legal ramifications are being considered.
Til Next Time...
...In Peace,
'G'
https://twitter.com/AuthorBoulwareG
>
~BoulwareEnterprises~
http://www.BoulwareEnterprises.com
https://about.me/gregory_boulware
"Article Posting Sites"
https://www.blogger.com/profile/10910946197037982583
https://boulwareenterprises.wordpress.com/
http://www.linkedin.com/pub/gregory-boulware/10/435/44b
https://www.goodreads.com/author/show/7237172.Gregory_V_Boulware
http://thebookmarketingnetwork.com/profile/GregoryVBoulware
http://www.wattpad.com/user/GregLitideas
https://literarygreg10xsmenow.tumblr.com/
http://koobug.com/GregoryVB_Author?p1498
https://about.me/gregory_boulware
http://www.pinterest.com/writerauthor6bk/pins/
https://plus.google.com/111976345290342184104
http://www.bookcrossing.com/mybookshelf/GVBoulware/all
https://www.facebook.com/profile.php?id=100009002895659
http://ezinearticles.com/?expert_bio=Gregory_V._Boulware
~The Connect Platform~
http://hbcu.com/cgi-bin/blog.cgi?id=641608
http://blackhistory.com/cgi-bin/blog.cgi?id=641608
http://hbcuconnect.com/cgi-bin/blog.cgi?id=641608
http://blackauthorsconnect.com/cgi-bin/blog.cgi?id=641608
http://blackwomenconnect.com/cgi-bin/blog.cgi?id=641608
http://blackinamerica.com/cgi-bin/blog.cgi?id=641608
http://chocolatepagesnetwork.com/cgi-bin/blog.cgi?id=641608
http://escapeintotheword.connectplatform.com/cgi-bin/blog.cgi?id=641608
"Amazon"
http://www.amazon.com/Gregory-V.-Boulware/e/B00OI16PDI/ref=ntt_dp_epwbk_0
https://authorcentral.amazon.com/gp/profile
http://www.authorsden.com/gregoryvboulware
And
"Twitter"
https://twitter.com/AuthorBoulwareG
https://independent.academia.edu/GregoryVBoulware
http://knowledgeisking.ning.com/profile/GregoryVBoulware
https://www.authorsden.com/visit/author.asp?id=168361
ThePaper.Li.BoulwareDaily
http://paper.li/~/publisher/5445ebb6-59f5-4aaf-bbbb-4bfc6689d423
*/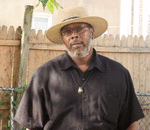 Posted By: Gregory Boulware, Esq.
Wednesday, February 7th 2018 at 6:15PM
You can also
click here to view all posts by this author...