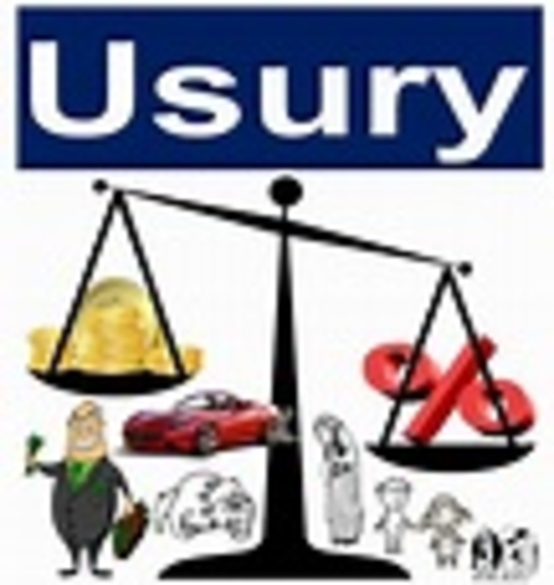 Psalms 38:12 They also that seek after my life lay snares for me: and they that seek my hurt speak mischievous things, and imagine deceits all the day long.
Deuteronomy 23:20"Unto a stranger thou mayest lend upon usury; but unto thy brother thou shalt not lend upon usury: that the LORD thy God may bless thee in all that thou settest thine hand to in the land whither thou goest to possess it."
Ezekiel 18:13"Hath given forth upon usury, and hath taken increase: shall he then live? he shall not live: he hath done all these abominations; he shall surely die; his blood shall be upon him."
Usury starts when the U.S. Federal Reserve loans the Regional Reserve Banks and including the commercial banks the prime rate of an adjustable today's actual average of 4.3%, and the commercial bank comes back and lends the bank customer and a fix or variable rate of 23%-26% it's all according to the false conditions anyway." Do the math".
Example: $430,00 x 23%= $989.00-For late interest+late charges plus fess of $36 or more=$1025.00 "that is evil as hell".
Must Read: Being aware of reverse psychology I 'm aware of ,that is why, all make it look as to wire bank, the Scorpion king would only leave sickness, death and destruction in its path.
Must Read: How Cain became submissive to Adam
Must Read: How to identify guillotine bait that is corrupt and greedy with no class..(See) Perils and tragic end of Marie Antoinette.
Must Read: All is fair at love and war.
Must Read: Big boy got on some tight diapers.
Must Read: They circle me like vultures.
Must Read: The unbalanced money scales.
Posted By: TEST TEST
Tuesday, February 13th 2018 at 4:14PM
You can also
click here to view all posts by this author...