Would anyone be interested in a 10 day trip to Liberia West Africa Luxury hotel, tours, and lots of learning about "our cousins" . I am starting a travel partnership very soon and am looking for folks who may have been to Africa already but not to Liberia and folk who have said this is my year to go. I just need 10 people to start but hope to grow this tour to twice a year. Plan to visit Monrovia, the National Museum, Sap National Park, Robertsport, visits to local schools and more ...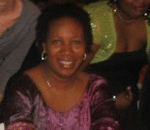 Posted By: Greta Rushion
Tuesday, February 13th 2018 at 8:29PM
You can also
click here to view all posts by this author...