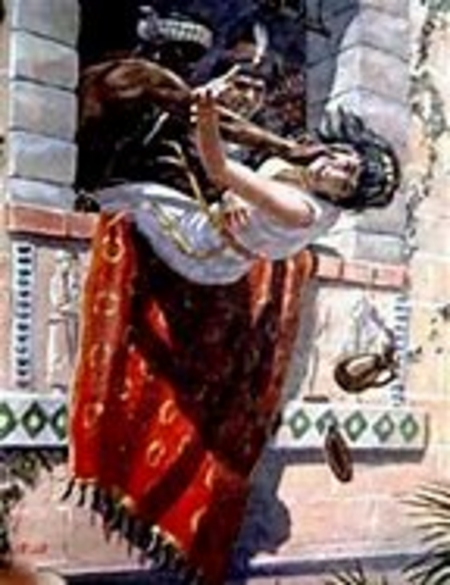 AFTER ELISHA WAS SANCTION TO HAVE JEHU ANOINTED KING OVER ISRAEL.
Then the prophet poured the oil on Jehu's head and declared, "This is what the Lord, the God of Israel, says: 'I anoint you king over the Lord 's people Israel. 7 You are to destroy the house of Ahab your master, and I will avenge the blood of my servants the prophets and the blood of all the Lord 's servants shed by Jezebel. 8 The whole house of Ahab will perish.
2 Kings 9:30-33 Then Jehu went to Jezreel. When Jezebel heard about it, she put on eye makeup, arranged her hair and looked out of a window. 31As Jehu entered the gate, she asked, "Have you come in peace, you Zimri, you murderer of your master?"fn 32He looked up at the window and called out, "Who is on my side? Who?" Two or three eunuchs looked down at him. 33"Throw her down!" Jehu said. So they threw her down, and some of her blood spattered the wall and the horses as they trampled her underfoot.
2 Kings 10:11 So Jehu killed everyone in Jezreel who remained of the house of Ahab, as well as all his chief men, his close friends and his priests, leaving him no survivor
THE EVIL GAINSAYING IN THE LAWS PRECEPTS
Revelation 13:10 10He that leadeth into captivity shall go into captivity: he that killeth with the sword must be killed with the sword. Here is the patience and the faith of the saints.
Posted By: TEST TEST
Thursday, February 22nd 2018 at 9:28AM
You can also
click here to view all posts by this author...