My name is Malika and I think of Winnie Mandela. I think of the late Corretta Scott King as I am now called to usher in their strength and spirit as a woman who must stand in the gap for my husband who has just become the latest political prisoner.
I am writing this letter on behalf of my husband Assane Diouf a freedom fighter who was snatched from our home and into the abyss of the Senegalese prison system after speaking out against the atrocities of it's government. As a result I am very concerned about his safety. I am a hundred percent certain his life is in danger. 
My husband is a native of Senegal he has been speaking out against the injustices and expressing his political opinions and is now being punished severely and his life is threatened for doing so.
He was deported from the United States at the end of August 2017. The Senegalese government opposes him for his political opinion in regards to the government and issues that concern Senegal.
I am very concerned for his life,  his safety and for the future of our family. We hired a lawyer to try to grant him political asylum before he was deported from the United States of America, however that did not happen and we are devasted beyond measure the U.S has not stepped in to offer aid assist.  Since being in Senegal there have been death threats on my husband's life. His house was raided in Senegal. His family in Senegal had to be removed from their place of dwelling due to the attacks on their lives and livelihood.
Mame Mor Mbaye is the name of one the perpetrators who brought chaos into my husband's home in Senegal and also communicated via video stating he will not stop until he kills my husband. 
I have been reaching out to different lawyers. I've spoken with a few people here at the embassy such as Sky Justice such as Marine Lance Comatoney. Forgive me if I spelled incorrectly. They both advised me to send emails and write letters in an effort to gain support and assistance with my husband's case.
During my recent trip to Senegal I met with the counsel at the US Embassy. She says that they are keeping a close eye on what is going on but not really too much they can do because he isn't an American Citizen. He has been held in prison since the end of November and hasn't been sentenced or seen a judge and it's now Feb. This is not justice.
He has not been able to bathe properly. He has told me they were interrogating him. I am afraid the Senegalese government may have employed inhumane tactics to get my husband to admit to things that are not true. The are profusely insinuating that someone is paying him to speak the way he does.
He should have never been deported from America in the first place under the circumstances when his life was in danger prior to him leaving America.
For those who have interest in our story it is very easy to look him up online. I can be reached directly and send links and documents backing up everything that I am saying.  My husband has gained a great deal of popularity through his Facebook live shows with many followers that support him and also many followers that do not support him.
I am reaching out as an American citizen and as a concerned wife willing to do whatever it takes to make sure he is safe.  I am immensely terrified of the possibility of what can happen to him. I am outraged and furious that is seems like no one is able to answer any questions for me nor find out what is going on with him in Senegal.  The police are holding him without any just cause.
If he is released he has nowhere to go for safety, this is my main issue and concern. As an American citizen married to a Senegalese man I am seeking help to bring safety to my husband and our family. Thank you so much for taking the time to read my letter. I hope you will join our cause.
For more information please contact us at
asssanesioufofficial@gmail.com
www.freeassanediouf.com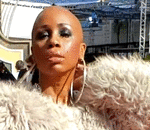 Posted By: Tanisha LaVerne Grant
Tuesday, February 27th 2018 at 11:12PM
You can also
click here to view all posts by this author...