Spelman College English major Bria Paige, C'2019, a 2017-2018 Formation Scholar who was recently elected president of Spelman's Student Government Association, shares via video what her Spelman experience and the College's rich legacy of excellence means to her.
A Jackson, Mississippi native, Paige is also a 2017 UNCF Mellon Mays Undergraduate Fellow and plans to pursue a doctorate in English literature and Black feminist scholarship. Her undergraduate research as a Fellow will focus on Black women and their political spaces, using the English discipline as the primary framework for her investigation and analysis.
As a Formation Scholar, Paige received a $25,000 scholarship funded by Parkwood Entertainment in recognition of the one-year anniversary of Beyoncé Knowles-Carter's critically-acclaimed, award-winning visual album, "Lemonade."
Learn More: Formation Scholarship:
https://www.spelman.edu/about-us/news-and-events/news-releases/2017/06/15/spelman-college-junior-is-among-four-students-awarded-first-beyonc%C3%A9-formation-scholarship
"'Lemonade' inspired my Mellon research proposal, ultimately fueling my desire to pursue doctoral studies centered on Black feminist thought and contribute to the evolvement of diverse scholarship within academia," said Paige.
blue-quote-leftExperiencing Beyoncé blur the lines between the personal and political and influence culture worldwide, while championing Black women and our experience, blue-quote-rightempowers me to discover effective and culturally sound ways to see myself within the world and my academic future.
Setting a Standard as a Scholar and Leader
Active both inside and outside of the classroom, Paige is a member of the Ethel Waddell Githii Honors Program and Alpha Lambda Delta national honor society. While her academic achievements have secured her position on the Dean's List, she also holds various leadership positions, including the Spelman Student Government Association's (SSGA) secretary of academic affairs and co-president of the English Club. Previously, she served as sophomore class president, managing editor of The BluePrint: A Spelman Spotlight Publication, and treasurer of the English Club.
https://www.spelman.edu/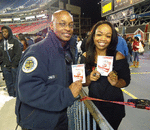 Posted By: Elynor Moss
Monday, March 5th 2018 at 12:45PM
You can also
click here to view all posts by this author...