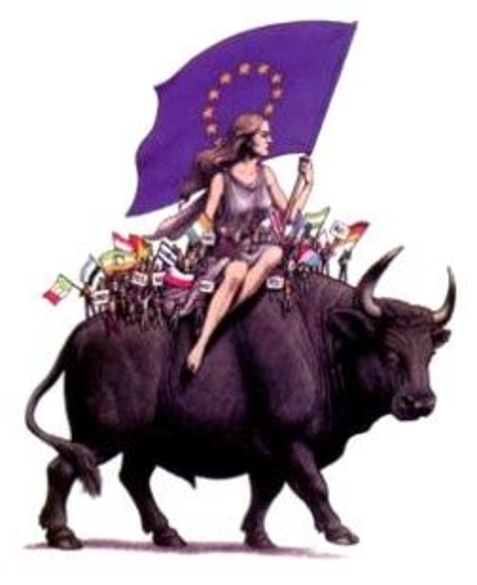 Revelation 18:4" And I heard another voice from heaven, saying, Come out of her, my people, that ye be not partakers of her sins, and that ye receive not of her plagues."
2 Kings 5:27 And when he came to the tower, he took them from their hand, and bestowed them in the house: and he let the men go, and they departed. 25But he went in, and stood before his master. And Elisha said unto him, Whence comest thou, Gehazi? And he said, Thy servant went no whither. 26And he said unto him, Went not mine heart with thee, when the man turned again from his chariot to meet thee? Is it a time to receive money, and to receive garments, and oliveyards, and vineyards, and sheep, and oxen, and menservants, and maidservants? 27The leprosy therefore of Naaman shall cleave unto thee, and unto thy seed for ever. And he went out from his presence a leper as white as snow.
Isaiah 30:1-7 - Woe to the rebellious children, saith the LORD, that take counsel, but not of me; and that cover with a covering, but not of my spirit, that they may add sin to sin:That walk to go down into Egypt, and have not asked at my mouth; to strengthen themselves in the strength of Pharaoh, and to trust in the shadow of Egypt!Therefore shall the strength of Pharaoh be your shame, and the trust in the shadow of Egypt your confusion.For his princes were at Zoan, and his ambassadors came to Hanes.They were all ashamed of a people that could not profit them, nor be an help nor profit, but a shame, and also a reproach.The burden of the beasts of the south: into the land of trouble and anguish, from whence come the young and old lion, the viper and fiery flying serpent, they will carry their riches upon the shoulders of young asses, and their treasures upon the bunches of camels, to a people that shall not profit them.For the Egyptians shall help in vain, and to no purpose: therefore have I cried concerning this, Their strength is to sit still.
http://www.inplainsite.org/html/eu_superstate.html
http://israel7777777.blogspot.com/2013/04/peres-invites-pope-to-israel.html
Must Read: Lord they are not aware of the severity of Her sins.
Must Read: True 12 Black Hebrew Tribes of Israel are no longer in denial of their ancestral existence.
Malachi 3:10 Bring ye all the tithes into the storehouse, that there may be meat in mine house, and prove me now herewith, saith the LORD of hosts, if I will not open you the windows of heaven, and pour you out a blessing, that there shall not be room enough to receive it.
https://www.youtube.com/watch?v=os*xTLVZFXc
Posted By: TEST TEST
Wednesday, March 21st 2018 at 5:02PM
You can also
click here to view all posts by this author...