Jeffrey Wright delivers a powerful performance as a maximum-security prison inmate named Louis, who, 24 years after committing a violent crime as a young man, finds himself on the cusp of release from prison, facing an uncertain future on the outside. He encounters Beech (Theothus Carter), a newly incarcerated young man who offers him much needed-friendship, though itís not without unfortunate complications. The younger inmate echoes of his older counterpart, stirring instincts within Louis that had long been buried beneath a tough exterior. Sacklerís film is a taut prison drama that follows the seemingly mundane countdown of days before Louisís release, until, almost imperceptibly, it transforms into a thriller, suddenly crackling with intensity. Filmed on location in an actual maximum-security prison with inmates participating as actors, the film lays bare, with remarkable realism, the very specific complexities of existing as an incarcerated man in America. Sacklerís background as an esteemed documentarian influences her first fiction film, a portrait of a proud yet regretful soul at a crossroads.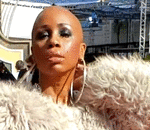 Posted By: Tanisha LaVerne Grant
Sunday, April 29th 2018 at 12:06AM
You can also
click here to view all posts by this author...