DEAR GARDENERS
Autumn/Winter Issue 2018
Final 2018
Written by Miisrael
Hello Dear Gardeners,
I hope you have had a most wonderful summer. Itís time for Autumn and then cold days of Winter. Meanwhile, you can see the blooms ahead if you start your gardens plans for next Spring, and Summer too. Right now, the marigolds are popping up from the heat wave to cooler weather and Indian summer. If you have done your homework or rather yard work you are keeping up real good.
I have had a most amazing summer. I decorated my porch with blooms. Now they are fading away. I visited my sisterís location for a pleasant escapes. How peaceful to see things grow. Hope you had a rich bounce at your house too. Since I am in the South summer flowers are lingering on. I enjoy taking drives to the country.
So get your own place plans, select your bulbs and dig and plant. I suggest you you get your bulbs selected soon.. You can choose irises and tulips, and daffodils to start planting. A good mulch is also suggested at this time. And if you want a rose garden do it in this fall. In addition, trees are great to plant now. Check out your gardens center for sale items for Spring plants. Use your imagination to produce your passions of a blessed earth.
There are a few more days to get the Spring beds ready. Before you know it will be Christmas. Poinsettias will be around, and if youíre really good you may have them come back next Christmas.. 😂 Lol!
Busy Hands....will grow things...
Wishing you all my love..
So tell me how does Gardens grow?
I really want to know ..
Mine still grows with lots of Love ❤️
I will write you Love Notes....
-Miisrael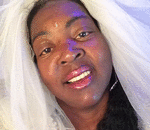 Posted By: MIISRAEL Bride
Saturday, October 6th 2018 at 5:44PM
You can also
click here to view all posts by this author...