THE LATTER DAYS. . .
TAKE THIS ESCAPES
ESCAPES ...
WITH THE SPIRIT AND THE BRIDE
A writings of The Bride Miisrael with Jesus
All day rain showers poured. The cool dampness kept the bride inbound but it was with pleasures she moved in the oils of love and intimacy of sanities and thoughts of lover. Her love grew wider than ever and deeper feeling comforted her with Jesus all the whole day. He was among her skin; and in every workings of her labor had thoughts and intimacy.
During the morning she took up to the clouds where heaven opened a morning of joyous happiness. It was gray skies, because the rain would shower all the day. Later, in the afternoon the rains ceased, but clouds remained gray. In the distance she saw a large horse and thought of huge chariots to carry her to her beloved Jesus. With that she paused. She took some sighs and played a song with the viola. ..
The music of the strings was passionate and lovely. It was said inside her that the words she typed made a lyric and melody of notes played as she listened to a composure. It was a time, a traveler a place of language in French. Perhaps, in time a people of French would wonder of her and her lover Jesus? "I am satisfied with that" she said. "If you are with me My Love. ."
Then she wrote..."Je suis un voyaguer temporel....debut et fin."
Which is translated in English:
"I am a time traveler....beginning and end."
After this I beheld, and lo, a great multitude,
which no man could number, of all nations, and
kindreds and people and tongues, stood before the throne,
and before Lamb, clothed with white robes and
palms in their hands..
Revelation 7:9 KJV
The Lion of the tribe of Juda
the Root of David, hath prevailed to open
the book, and loose the seven seals thereof.
Worthy is the Lamb that was slain to
receive power, and riches, and wisdom and,
strength and honor, and glory and blessing.
Revelation 5:5 and Verse 12 KJV
You have been reading from the
places afar. . .
From the
BOOK OF ESCAPES
writings of The Spirit and his bride.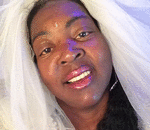 Posted By: MIISRAEL Bride
Monday, December 31st 2018 at 6:16PM
You can also
click here to view all posts by this author...