TODAY: Monday, January 07, 2018
There's normally always some course of vibes
to interrupt the peace you may live. Yet, even
so the feeding it will determine if you'll let thrive,
keep it fed, or if you'll be letting it it go to
starve to perish, so that you may resume your love
with God and his peace with you.
THINK ON THIS:
I will not nourish the negatives vibes around me,
to become locking me out of the peace God has given me.
The conditions of peace are precious and I adore the precious gift
of peace with Jesus.
And he that searcheth the hearts
knoweth what is the mind
of the Spirit, because he maketh
intercession for the saints according
to the will of God.
Romans 8:27 KJV
CENTER PEACES
written by Miisrael
Winniespoetry Books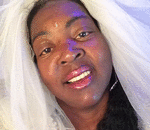 Posted By: MIISRAEL Bride
Monday, January 7th 2019 at 5:37PM
You can also
click here to view all posts by this author...