Yikes! That stings. . . OOOh..
YOUR WORLD NEWS
Day: 07
January, 2019
Queensland, Australia
Thousand of beach goes have reported painful stings by a sea creature while in the ocean waters. The "Bluebottles" sea creatures reportedly stung over 13,000 swimmers and beach goeers at popular spots in one weekend. Many as 2,600 who were stung received treatment at local hospitals, or by paramedics from the stings. Although, the stings are not deadly it causes a very painful punch and can be treated with ice or hot water on the sting areas.
The creatures apparently were shifted in the swim spots by drifting winds on the waters. Since the number of stings were so great in number, many of the swim spots closed until the creatures have floated elsewhere. The "Bluebottles ( Physalia Utriculus) appear like blue tin sacs and measures about six inches long.
WORLD WATCHING
O-O`
I guess it's a stinger!
They made a sting!
That's it!
Bubbles. .ooooooooooo
News Source: BBC World News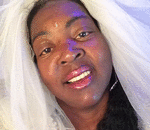 Posted By: MIISRAEL Bride
Thursday, January 10th 2019 at 3:57PM
You can also
click here to view all posts by this author...