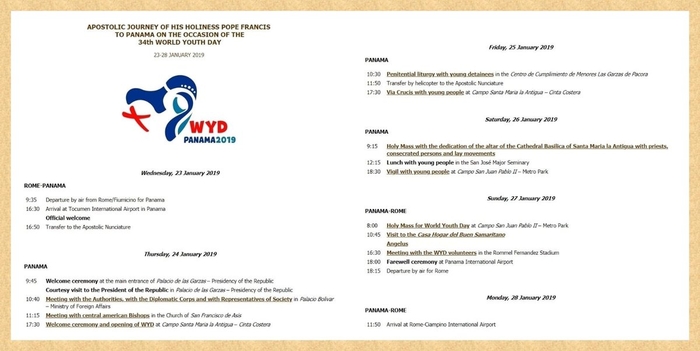 For Immediate Release From The Vatican News!
President of Panama: 'we are ready to welcome Pope Francis'
Pope Francis travels to Panama for World Youth Day from 23 to 27 January. President Juan Carlos Varela Rodriguez speaks about how the country has been preparing for the event for over two years.
By Linda Bordoni
Hundreds of thousands of young people are converging on Panama City to participate in the 34th  World Youth Day, an event that was established by Pope St. John Paul II in 1984.
As President Juan Carlos Varela Rodriguez reveals, preparations to host the event kicked off on 31 July 2016 when Pope Francis wrapped up the World Youth Day in Krakow, Poland, with the announcement that Panama City had been chosen as the next venue.
Preparations
Describing his people as "noble and hard-working", "full of faith and hope" he said that since 2009, when the country was preparing to celebrate the 500th anniversary of the establishment of the first Catholic diocese on the American continent, many began to dream of the possibility of a papal visit to Panama. That dream, he said, has finally come true.
The President also noted that to welcome the Pope – not for a pastoral visit to a particular country – but for an event that gathers thousands of young people from all over the world in one place, is perfectly in keeping with Panama's vocation to be a bridge and a mediator.
Panama's bridge-building vocation
Once again, he said, Panama will be the country that "builds bridges between nations and cultures, a meeting point, a starting point for Pope Francis's message that will be spread from here to all corners of the earth".
President Varela went on to explain that as well as prepare from a logistic and organizational point of view, so that the pilgrims will be able to experience this gathering with the Pope in the best possible way, authorities have also tried their best to make sure that they will be able to enjoy what their "small, great nation" has to offer.
"Everything is ready," he said, "mobility, health and emergency plans are already being communicated to the general public". A new subway line is working, transportation has been increased and new pedestrian routes have been inaugurated.     
"As a Panamanian," he concluded, " I feel honored that our country will be at the heart of the world for a few days, pumping the Pope's message of hope, unity, solidarity and concern for those in need."
Read the full preparation highlights HERE!:
https://www.vaticannews.va/en/church/news/2019-01/world-youth-day-2019-interview-president-varela.html
**********
Panamá Prequel Take 2: A Tale of Two Cities
World Youth Day events are now officially underway in Panamá. Thousands of young people continue to converge on this small Central American nation and its capital, Panamá City. But, according to our correspondent, there's more to Panamá than meets the eye.
By Seàn-Patrick Lovett
Imagine, just for a moment, that you are a young pilgrim attending the 34th World Youth Day in Panamá City. If you are lucky, you will have arrived by plane. Even after a 20-hour flight from Europe, Africa or Asia, you'll still feel fortunate to be here. Because we all know this is a once-in-a-lifetime experience, a unique opportunity to celebrate being Catholic among committed, faith-filled, young believers like yourself.
First impressions
That sense of celebration will increase exponentially as you drive from the airport to the city centre. Flanked by fluttering flags, alternating the yellow and white of the Vatican, with the red, white and blue of Panamá, you will be greeted by the face of Pope Francis himself, smiling down at you from banners and billboards.
Read the full article HERE!:
https://www.vaticannews.va/en/church/news/2019-01/world-youth-day-2019-panama-prequel-two.html
**********
Two hundred young Angolans in Panama for WYD 2019
A delegation of more than 200 young people from various apostolic movements and dioceses in Angola has arrived in Panama for the Catholic Church's World Youth Day that starts Tuesday 22 January and ends on 27 January.
English Africa Service – Vatican City
Vatican News' Angolan correspondent. Anastácio Sasembele in Luanda reports that the young Angolans have had intensive preparation leading up to the weeklong event at which Pope Francis will preside.
Panama WYD 2019: A faith and cultural encounter
The Angolans have been divided into various groups so that different teams will take turns in leading and animating liturgical, religious, cultural and social activities. They also carried with them various traditional attire, typical of Angola, as well as foods from their country for presenting and sharing during cultural events.
Read the full Story HERE!:
https://www.vaticannews.va/en/africa/news/2019-01/world-youth-day-2019-angola-youth.html
**********
Bethlehem Christians send 1 million Rosaries for WYD2019 in Panama.
A million rosaries from Bethlehem Christians for World Youth Day
Aid to the Church in Need (ACN) has funded a million rosaries made by the Christian artisans of the town of Jesus' birth as a support for the Christian community in the Holy Land.
By Robin Gomes
A million rosaries made by Christian artisans of Bethlehem have been destined as gifts to the participants in the Catholic Church's World Youth Day (WYD) that kicks off on Tuesday in Panama City.
The initiative of the Catholic charity, Aid to the Church in Need (ACN), is to support the Christian community of the town of Jesus' birth, whose Christian presence has diminished considerably because of economic hardships.  
"This initiative is essential because on the one hand it encourages prayer and on the other hand it helps support our brothers and sisters in the Holy Land," said Archbishop José Domingo Ulloa Mendieta of Panama, commenting on the ACN project.
ACN has contributed 100,000 Euros for the million rosaries destined for the young people attending the WYD, January 22-27, which Pope Francis is joining on Wednesday.
The rosaries made by Bethlehem's Christian craftsmen are in tune with the Marian theme of the Panama WYD: "I am the servant of the Lord. May it be done to me according to your word." (Lk 1:38).
Read the full article HERE!:
https://www.vaticannews.va/en/church/news/2019-01/world-youth-day-2019-rosaries-bethlehem-christians.html
Did you know 380 Bishops are at WYD2019 from around the world?
Use Hashtag #WYD2019 on Twitter and keep up with WYD2019 in Panama through Sunday, January 27, 2019.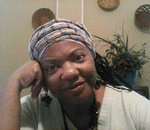 Posted By: agnes levine
Wednesday, January 23rd 2019 at 10:30AM
You can also
click here to view all posts by this author...