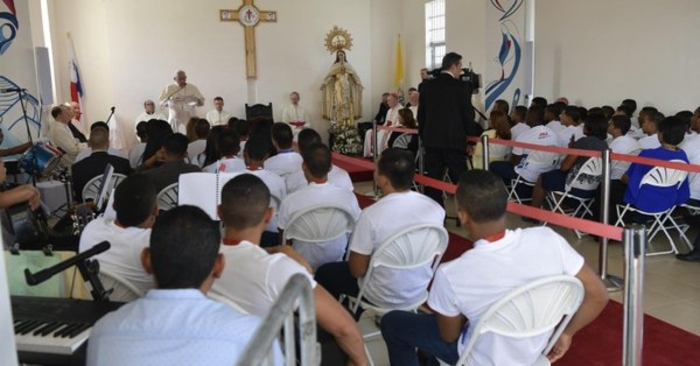 For Immediate Release From The Vatican News!
WYD Panama: Pope Francis' "Mercy Friday"
The ad interim Director of the Vatican Press Office says the Pope wanted his visit to the Juvenile Detention Centre to be an expression of God's mercy towards everyone.
By Seàn-Patrick Lovett
Alessandro Gisotti, the ad interim Director of the Vatican Press Office, was beside Pope Francis on Friday when he visited the Juvenile Detention Centre outside Panama City. Speaking to Vatican News, Gisotti describes the visit as a kind of "Mercy Friday": the discreet gestures the Pope occasionally makes in Rome to groups of marginalised or needy individuals or groups.
A message of mercy
"I had the opportunity to speak to the Holy Father after this very moving and touching visit for all of us, and for the Holy Father too", says Gisotti, "and he told me that the most important message he wanted to deliver, and to witness to, with this visit was precisely the mercy of God. He told me that he wanted to underline the mercy of God for everyone who needs that mercy, not only these young people who face such a difficult situation. So this was, and this is, the message of this day and this visit".
Read the full article HERE!:
https://www.vaticannews.va/en/vatican-city/news/2019-01/world-youth-day-2019-interview-gisotti-holy-see-press-office.html
**********
WYD Panama: Pope tells young detainees 'We are more than labels'
Pope Francis conducts a Penitential Service with young people in custody in Panama, and speaks to them of change, conversion, and encouragement.
By Seán-Patrick Lovett
You know you've arrived at the prison when you turn a corner and suddenly come up against a 12-foot high concrete wall topped with rolls of barbed wire. Through the guarded security gates you catch a glimpse of low buildings all painted different colours.
They call it a Detention Centre. But it's still a prison. They call the young detainees Juveniles in Custody. But they're still prisoners. The youngest is 14, the oldest 25. They are here to serve sentences of one to twelve years for crimes that range from petty theft, to drug dealing, to murder. And they've been preparing for Pope Francis' visit for months.
Preparations
They manufactured the chair on which the Pope sat in their carpentry shop. They prepared the different types of bread they gifted him in their bakery. They spent hours practising the songs they sang for him, painting a picture for him, carving a pastoral staff for him, and months making sure that all and everything would be perfectly in its place. And it was.
Penitential Service
By visiting the young detainees, the Pope was symbolically including all those young people who, for whatever reason, are unable to attend the World Youth Day celebrations. This gave special poignancy to the occasion and underscored the liturgical aspect of the encounter, which took the form of a Penitential Service. In fact, the Pope himself heard the confessions of five young people, and dedicated his homily to the themes of change, conversion, and encouragement.
Read the full article HERE!:
https://www.vaticannews.va/en/pope/news/2019-01/pope-francis-panama-wyd-2019-young-detainees-more-than-labels.html
**********
WYD Panama 2019: New Archbishop of Accra says young people close to his ministry
With Pope Francis in Panama for the World Youth Day events, Ghana's new Archbishop of Accra Archdiocese, John Bonaventure Kwofie, CSSp, has told "The Catholic Standard" weekly newspaper that the youth will occupy a special place in his heart and pastoral ministry, in the Archdiocese of Accra.
Damian Avevor – Accra, Ghana
Archbishop John Bonaventure Kwofie, CSSp will be installed in the Holy Spirit Cathedral, as the new Archbishop of Accra on 1 March 2019.
In an exclusive interview with Ghana's The Catholic Standard, Archbishop Kwofie said, "The youth occupy a special place in my heart and pastoral plan. We often talk about the youth as leaders of the future, but they are more than that. They are also leaders of today who are building the future," said the new Accra prelate.
Archbishop Kwofie has succeeded Archbishop Charles Palmer-Buckle, who was appointed as Ghana's Metropolitan Archbishop of Cape Coast on 11 May 2018.
Young people are full of ideas and energy
The Archbishop of Accra stated that young people are full of ideas, energy and are searching to make meaningful commitments for their future, in marriage or in a career or professional life.
"This," he said, implies that, "they need the attention and accompaniment of their parents, priests, and Church leaders in the hard task of constructing a future as individuals and as a body in the Church," said Archbishop Kwofie.
Read the full article HERE!:
https://www.vaticannews.va/en/africa/news/2019-01/world-youth-day-2019-accra-new-archbishop-ghana.html
**********
Cardinal Tagle at WYD in Panama: Service is a sign of discipleship
The Cardinal Archbishop of Manila leads a morning catechesis in Panama City, and challenges his young audience to consider what it means to serve.
By Seán-Patrick Lovett
Another day in Panama. Another morning catechesis somewhere in the city. Another theme to help young people immerse themselves in the spirit of a World Youth Day which, after the arrival of the Pope, is now in full swing.
I am the Servant of the Lord
On Thursday morning, the Parish of Cristo Redentor opened its doors to young pilgrims from California, Austria, Zimbabwe, and the Philippines.
The latter were by far the most numerous, and the most raucous. Their excitement was partly motivated by the presence of their very own Archbishop of Manila, Cardinal Luis Antonio Tagle. It was he who delivered the catechesis, or reflection, on the chosen theme of the day: "I am the Servant of the Lord".
Cardinal Tagle began by quizzing the young people present about who had said these words, to whom, and why. Their responses (almost all correct), allowed him to explain how Mary's reaction to the Angel challenges us, too, to think about what it means to place ourselves and our lives at the service of God and our neighbour.
Young people want to serve
In an interview with Vatican News, Cardinal Tagle develops this concept of service, turning it into a broader reflection on "how our contemporary culture regards the terminology of servant, slave, slavery".
"From the Old Testament to the New Testament", he says, "there is a radical re-appropriation of the language of slavery and servanthood which is normally associated with dehumanization, something that is degrading". The Cardinal goes on to clarify how, "in the Judeo-Christian tradition, set in the new context of Covenant Relationship", this same language acquires something that is joyful. It even becomes a sign of being "a disciple of Christ".
According to the Archbishop of Manila, "young people everywhere are more attracted to direct actions of service and charity".
Read the full article HERE!:
https://www.vaticannews.va/en/church/news/2019-01/world-youth-day-2019-cardinal-tagle-service-is-discipleship.html
Learn more about WYD2019 from The Catholic News Service at:
https://twitter.com/CatholicNewsSvc
Use hashtag #Panama and #WYD2019 and share!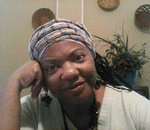 Posted By: agnes levine
Friday, January 25th 2019 at 5:20PM
You can also
click here to view all posts by this author...