IT WAS A SHOCKER FOR LOCALS. . .
YOUR WORLD NEWS
Day 06
February 2019
Instanbul, Turkey
No warnings... it fell down!
An apartment building suddenly collapses in Instabul in the city's Kartel district on Wednesday, February 06, 2019. It was reported that at least four people were missing and at least one person is affirmed killed by the incident. The cause of the falldown of the roof caving has not be explained. However, the textile workshop in lower floor of the building was vacant at the time of the mishap. Many of the tenants were trapped, but were aided in rescues by police, firefighters and aided with paramedics. At least one woman was transported to hospital for emergency care. The building had eight stories. The building was said to fallen around 1:00 p.m. their local time.
CRASH DOWN
IT FELL DOWN
WORLD WATCH
o-O`
Keep them in our prayers. .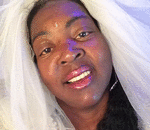 Posted By: MIISRAEL Bride
Wednesday, February 6th 2019 at 3:42PM
You can also
click here to view all posts by this author...