Some one is sending you a Love Notes
Itís reading:
In The Sheets
My Dear God of Love:
I love reading your intimacy in my bed.
Itís poetry for a soul.
I opened your verses and the message was
You love me.
Itís the love makings for a marriage.
I recite
I do. . .
And read more in the sheets..
I write a poem of love ❤️
-
Miisrael
Happy Poets Day!
Winniespoetry Love NotesYourwillofmecAugust2019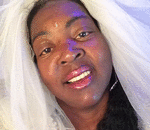 Posted By: MIISRAEL Bride
Wednesday, August 21st 2019 at 10:05PM
You can also
click here to view all posts by this author...