NOT THE NEGROS
EXTRACT: Ham is known as the father of the Black races but not the Hebrews who are in fact Shemites or of the linage of Shem. Under Exodus 11:7 the Zondervan Compact Bible Dictionary says: "HAM – THE YOUNGEST SON OF NOAH, BORN PROBABLY ABOUT 96 YEARS BEFORE THE FLOOD; AND ONE OF EIGHT PERSONS TO LIVE THROUGH THE FLOOD. HE BECAME THE PROGENITOR OF THE DARK RACES; NOT THE NEGROES, BUT THE EGYPTIANS, ETHIOPIANS, LIBYANS AND CANAANITES" Not the Negroes = Hamites selling Shemites into slavery during the slave trade. Because if Ham is the father of the dark or black people, that makes him the Father of all African and other black peoples.
HOWEVER IF HE IS NOT THE FATHER OF THE NEGROS (THAT MAKES NEGROES SOME OTHER KIND OF BLACK PEOPLE) that means that the descendants of one of the other brothers (Shem) must have also been a black or dark skinned person with descendants that are black or dark skinned also. By deduction, since Japheth is known to have been the Father of the light skinned or European people, that leaves us with Shem as the father of the negroes.
Shem is known to have been the forefather of Eber whose very name means "Hebrew" and Abraham who is the descendant of Eber is the first to called a "Hebrew" by those around about him. The life of the Semitic and Hamitic races must have been closely associated after the flood, because we find Abraham the father of the Hebrews living among them in Ur of the Chaldees. So close is the apparent relationship, that some authorities have looked upon Abraham as potentially Hamitic. Abraham came from Ur of the Chaldees. But he descended by direct line from a Semitic father. His mother may have been a Hamite, for Abraham was also spoken of as a Chaldean. Now logically, since Abraham came from Ur of the Chaldees, and the Chaldea is known to have been a black country. Abraham was more than likely a black man!
Why do you still call the HOLY BIBLE a White Man's BIBLE? You do realize that you are PROMOTING that same LIE?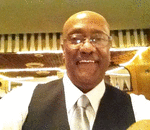 Posted By: Deacon Ron Gray
Wednesday, March 25th 2020 at 10:20AM
You can also
click here to view all posts by this author...