Israel United in Christ, Inc. was founded in 2003. Their goal is to change the hearts and minds of our people. Blacks and Hispanics must learn the truth that they are the Biblical 12 tribes of the nation of Israel. Disobedience to Godís laws has been the root of all our troubles. Blacks and Hispanics everywhere suffer the same racial, social, economic problems worldwide. Voting has not helped us; Christian churches have failed us. It is time for a change. In these last days, we must give the Bibleís medicine to sick people, then and only then will things begin to change.
Israel United in Christ is not affiliated with any other Israelite group!
Israel United in Christ is a non-violent bible based movement!
They do not advocate, or condone any acts of violence against any race, ethnicity, or gender! They advised that if anyone hears or knows of any plots to cause harm to anyone, or to break the laws of the land, you must contact the proper authorities to bring awareness to any possible threat, as stated in:
Lev. 5:1 As it is written And if a soul sin, and hear the voice of swearing, and is a witness, whether he hath seen or known of it, if he doe not utter it, then he shall bear his iniquity.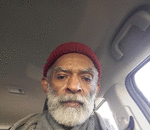 Posted By: John Ridgeway
Sunday, June 7th 2020 at 10:09PM
You can also
click here to view all posts by this author...