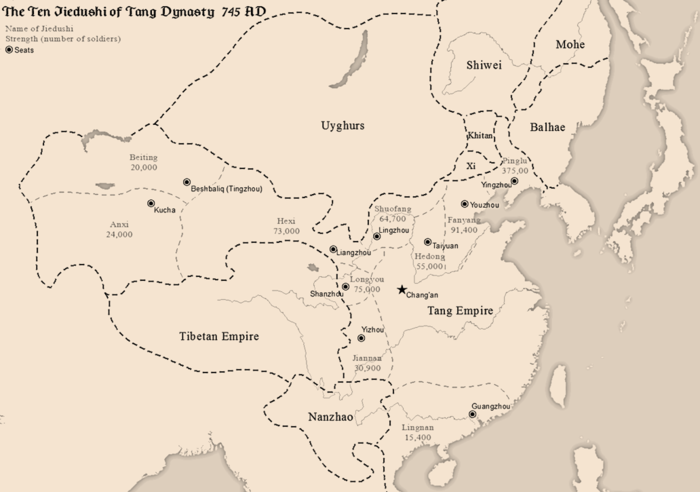 Beginning in 742, Eurasia entered a 13-year period of major political turmoil, with the regional empires generally suffering "a major rebellion, revolution, or dynastic change."[1] In this year the Second Turkic Khaganate of the eastern Eurasian Steppe was overthrown and then replaced by Sogdian-influenced Uighur rulers.[1] This was apparently the first of several revolutionary events either led by or intimately connected with the merchants and tradespeople involved with the international commerce often referred to as the Silk Road.[2] In 747, the Abbasids began their rebellion against the Umayyad Caliphate in Merv, Khurasan, resulting in the proclamation of a new Abbasid Caliph in about 750.[3] This rebellion also seems to have been organized by merchants and persons identifying themselves as merchants.[3]
The western expansion of the Tang Empire was checked in 751 by the defeat of a large expeditionary force led by General Gao Xianzhi in the Battle of Talas in the modern Fergana Valley, with the Abbasid victory attributable to the defection of the Karluk Turks in the midst of the battle. However, the Arabs did not proceed any further after the battle, and the Tang retained their Central Asian territories until the An Lushan rebellion.[4][5]
https://en.m.wikipedia.org/wiki/An_Lushan_Rebellion
Posted By: Steve Williams
Tuesday, June 23rd 2020 at 10:10PM
You can also
click here to view all posts by this author...