Harry, I do not need your MASSAís science to prove there is no new race of people. The answer is in the Bible. Your problem is you do not believe the Word of God. Romans 3:4 God forbid: yes, let God be true, but every man a liar; as it is written, The following verses prove there is nothing new under the Sun. Can you dispute the words of God? Your problem is you are too deaf, dumb and blind to understand.
Read, Ecclesiastes 1:9 The thing that has been, it is that which shall be; and that which is done is that which shall be done: and there is no new thing under the sun. 1:10 Is there any thing whereof it may be said, See, this is new? It has been already of old time, which was before us. 1:11 There is no remembrance of former things; neither shall there be any remembrance of things that are to come with those that shall come after.
Give me your understanding of these scriptures. Do not divert from these scriptures, if you do I will not respond. If you do not know ask youíre MASSA.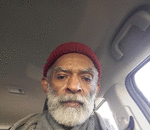 Posted By: John Ridgeway
Thursday, June 25th 2020 at 11:33AM
You can also
click here to view all posts by this author...