Race must be factored into the equation to understand what John 15:16 is saying. If you don't you will think that Prophet Jesus is talking to you who is not the same race as Jesus was and that is exactly what is happening to Mr. Ron. He will remain STUPID if he doesn't change to accept his own Black American prophet and religion name LIFE he is doom! Mr. Ron is not the same race as Prophet Jesus was so anything that Jesus said about God is not a message to Mr. Ron. Mr. Ron and the rest of the Black American race can only come to God through me, Christ Harry Black America's first anointed prophet.
What is happening is that Jesus a Caucasian Jewish man is talking strictly and only to other Jewish people exactly like himself.
Mr. Ron is mentally ignorant and STUPID to believe that Prophet Jesus a Jewish man was talking to him (Ron) when Mr. Ron is a Black American man descendant of plantation slaves.
The prophet who will wise-up Mr. Ron must be a Black American man anointed by the same God that anointed Prophet Jesus.
Prophet Jesus cannot tell Black Americans anything about God that is left to the Black American prophet God has anointed for us Black Americans; Christ Harry Black Americaís first prophet.
The only Black American that has anything in common with Prophet Jesus and Prophet Mohammed is Prophet Harry. No other Black American has anything in common with Jesus. What I have in common with Jesus is that the both of us are prophets anointed by the same God; we are brothers in prophet-hood.
For Mr. Ron to know anything about God he would have to get it from me, Christ Harry his first anointed prophet. God does thing in order and with common sense.
Christ Harry!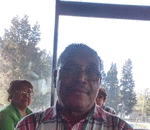 Posted By: Harry Watley
Wednesday, July 1st 2020 at 4:10PM
You can also
click here to view all posts by this author...