It is common sense thinking that another race will never treat you as your own race will. Whites say all the time they donít know what it is like to walk in the shoes a Black American person then why would you think that White police can police Black Americans fairly as they would their own White people?
You canít and the evidence show that you canít because for decades the police has been murdering Blacks and who they donít kill the racism justice system incarcerate us for life that a white person would not go to jail.
Christ Harry!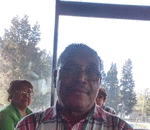 Posted By: Harry Watley
Thursday, July 2nd 2020 at 3:00PM
You can also
click here to view all posts by this author...