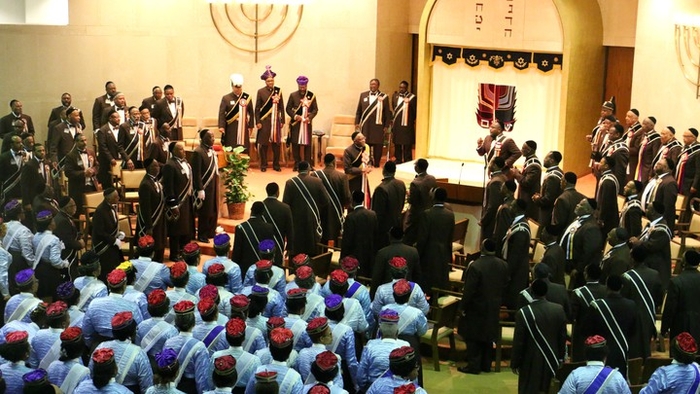 When Passover Is About American Slavery
A plantation houseboy grew up to be a prophet—and inspired a religious movement.
More than 1,000 men and women gathered this past week in coastal Virginia to celebrate Passover and retell the ancient story of how Moses led the Israelites from bondage to freedom. They were observing holiday traditions that Jews all across the world observe—only these celebrants were not Jews.
Their memories of slavery and liberation concerned not a distant past in Egypt, but a story set in the United States. Their prophet was an African American man born into slavery. He preached to a Christian audience, telling them to incorporate Hebraic practices into their faith out of a desire to return to the true Church as he envisioned it, and based his new Church on both Old and New Testaments. Their Promised Land was a plot in Virginia where descendants of black men and women could gather and be safe from the scourge of white supremacy.
Temple Beth El in Belleville is the headquarters of the Church of God and Saints of Christ, the largest and oldest organization of Hebrew Israelites in the country. Hebrew Israelites are people of color, mostly African American, who identify as descendants of the biblical Israelites. Passover is among the holiest weeks on this group's calendar. Members travel from across the country and abroad to spend days in near-constant worship in a place they call Canaan Land, after the land promised by God to Abraham in the book of Genesis.
"Just as Israelites of the Bible had their Land of Canaan filled with milk and honey, this is our land of milk and honey," said Melvin Smith, 46, a fourth-generation congregant from nearby Portsmouth, Virginia. "This is our refuge."
The group remains little known outside its own ranks, despite over a century of history, tens of thousands of members, and outposts that fan across America, Africa, and the Caribbean. Religion scholars are given scarce, if any, access to the organization's archives. Leadership guards the legacy of the group closely. Photography is rarely permitted inside sanctuaries. Internal materials, like the group's unique hymnal, are not to be reproduced or shared with outsiders.
"The Church of God and Saints of Christ is one of the most important religious bodies in America that few people have ever heard of," said Jacob Dorman, professor of history at the University of Kansas and author of Chosen People: The Rise of American Black Israelite Religions.
At an evening service last week, hundreds of congregants filed into pews. The sanctuary, opened only on special holidays, was filled nearly to capacity. Saints, as members call themselves, were dressed in the formal garb that has been part of their tradition for generations. The men wore sashes across their shoulders, long-tailed suit jackets, black kippahs, and white gloves. Some wore thin white prayer shawls, or tallits, on their necks. The women were dressed in sashes, brown pleated skirts, and brightly colored headdresses fixed with glittering brooches.
At the center of the room was a large Torah ark decorated with a fabric banner that read "Shalom" in Hebrew, flanked by two seven-pronged menorahs. The chief rabbi, a retired math professor named Phillip E. McNeil, stood behind the pulpit. At 75, he exudes a quiet authority. He spoke lightly into a microphone and the crowd hushed. They had been worshipping together for a week straight. "Are you tired yet?" McNeil joked. "There's nothing like worshiping the God of Israel, is there?"
A younger evangelist followed McNeil onto the stage and picked up the Passover theme, which ran through almost every sermon. "I'm here to remember that day we came out of Egypt," Frank Johnson said. "In every age, He's still passing over, still executing judgment, still demanding that the oppressed go free."
A choir of hundreds broke into song, complex four-part a capella sung by heart. The lyrics of the songs are composed by congregants and delivered to them, it's said, through divine dreams. This evening's choir master pumped his fists in the air, readjusting the kippah on his head as music filled the sanctuary.
Collin McGhie, from North Carolina, sang along, shifting his weight from right to left and clapping. McGhie was raised a Seventh-day Adventist and joined this organization six years ago. "I come here for a spiritual recharge," McGhie said.
MORE STORIES
Passover, the Jewish Holiday for Gentiles
LAUREN DAVIDSON
A Newsroom at the Edge of Autocracy
TIMOTHY MCLAUGHLIN
Facebook's Looted-Artifact Problem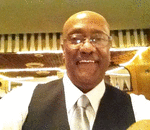 Posted By: Deacon Ron Gray
Sunday, August 2nd 2020 at 5:58AM
You can also
click here to view all posts by this author...