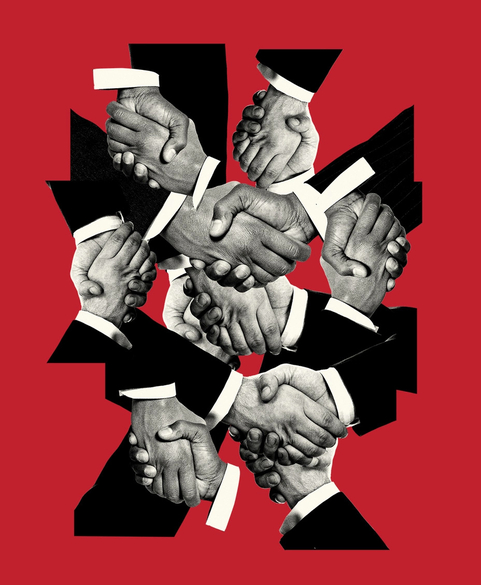 If the 20th century was the story of slow, uneven progress toward the victory of liberal democracy over other ideologies—communism, fascism, virulent nationalism—the 21st century is, so far, a story of the reverse.
By Anne Applebaum
Illustrations by Michael Houtz
NOVEMBER 15, 2021, 5:30 AM ET
Nowadays, autocracies are run not by one bad guy, but by sophisticated networks composed of kleptocratic financial structures, security services (military, police, paramilitary groups, surveillance), and professional propagandists. The members of these networks are connected not only within a given country, but among many countries. The corrupt, state-controlled companies in one dictatorship do business with corrupt, state-controlled companies in another. The police in one country can arm, equip, and train the police in another. The propagandists share resources—the troll farms that promote one dictator's propaganda can also be used to promote the propaganda of another—and themes, pounding home the same messages about the weakness of democracy and the evil of America.
https://www.theatlantic.com/magazine/archi...
Posted By: Steve Williams
Tuesday, November 16th 2021 at 9:03PM
You can also
click here to view all posts by this author...