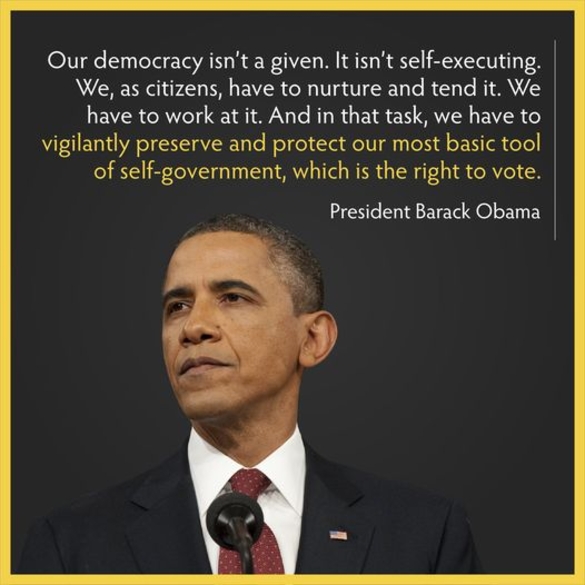 FOR IMMEDIATE RELEASE FROM HIS ROYAL MAJESTY, COMMANDER-IN-CHIEF, BARACK OBAMA (ALL CAPS)!
Former President Barack Obama: We need to follow John Lewis' example and fight for our democracy!
"The world, and future generations, will be watching," Obama writes as he calls on Senate to "do the right thing" and pass legislation to protect voting rights.
Barack Obama Special to USA TODAY
When I spoke at John Lewis' memorial service two years ago, I emphasized a truth John knew better than just about anyone. Our democracy isn't a given. It isn't self-executing. We, as citizens, have to nurture and tend it. We have to work at it. And in that task, we have to vigilantly preserve and protect our most basic tool of self-government, which is the right to vote.
At the time, various state legislators across the country had already passed a variety of laws designed to make voting harder. It was an attack on everything John Lewis fought for, and a challenge to our most fundamental democratic freedoms.
Since then, things have only gotten worse.
Slow unraveling of basic democratic principles
While the American people turned out to vote at the highest rate in a century in the last presidential election, members of one of our two major political parties – spurred on by the then-sitting president – denied the results of that election and spun conspiracy theories that drove a violent mob to attack our Capitol.
Columnist Connie Schultz:Why aren't all of us having nightmares about the next Jan. 6? Next time may succeed.
Although initially rejected by many Republicans, those claims continued to be amplified by conservative media outlets, and have since been embraced by a sizable portion of Republican voters – not to mention GOP elected officials who do, or at least should, know better. Those Republican officials and conservative thought leaders who have courageously stood their ground and rejected such anti-democratic efforts have found themselves ostracized, threatened and subjected to primary challenges.
Meanwhile, state legislators in 49 states have introduced more than 400 bills designed to suppress votes. Some of these bills we've seen before: legislation that would discourage voters, including racial minorities, low-income voters and young people from casting a ballot. Others aim to treat certain polling locations differently, creating one set of rules for voters living in cities and another set for people living in more conservative, rural areas.
We're also seeing more aggressive attempts to gerrymander congressional districts. Gerrymandering, which essentially allows politicians to choose their voters instead of the other way around, isn't new – and both parties have engaged in it.
USA TODAY Editorial: Senate can safeguard democracy by outlawing partisan redistricting
But what we're seeing now are far more aggressive and precise efforts on the part of Republican state legislatures to tilt the playing field in their favor. In states that have approved new congressional maps, there are now 15 fewer competitive districts than there were before. Fewer competitive districts increases partisanship, since candidates who only have to appeal to primary voters have no incentive to compromise or move to the center.
Finally and perhaps most perniciously, we've seen state legislatures try to assert power over core election processes including the ability to certify election results. These partisan attempts at voter nullification are unlike anything we've seen in modern times, and they represent a profound threat to the basic democratic principle that all votes should be counted fairly and objectively.
Read and learn more HERE!:
https://www.usatoday.com/story/opinion/202...
********
Obamacare is proving popular in red states that didn't expand Medicaid
(CNN)When Pedro Peña lost his job as a restaurant cook at the start of the coronavirus pandemic, he applied for Medicaid to replace his job-based insurance. A diabetic, Peña understood the importance of being covered.
But the Miami resident was repeatedly turned down for public health insurance because Florida is among the dozen states that have not expanded Medicaid to low-income adults.
Peña, 62, didn't realize the Affordable Care Act still existed since he had stopped hearing about it. But late last year, his friends and family suggested he reach out to Epilepsy Florida to see if he could sign up.
Shirley Dominguez, one of the navigators at the nonprofit group, enrolled him in a Florida Blue plan with no deductible that costs $41 a month after federal subsidies. Peña, who is afraid to return to work during the pandemic, quickly found a "wonderful" primary care physician and secured his diabetes medication.
"I am very grateful to God to get insurance," said Peña, who noted Dominguez's help was crucial since he found the enrollment process to be very complicated. "At my age, I need to make sure I have access to doctors."
Peña is among the millions of Americans who have selected 2022 coverage on the Affordable Care Act exchanges, many for the first time. More than 13.8 million people have picked plans on the federal and state marketplaces -- 2 million of them new to Obamacare for 2022.
That's an increase of 21% in sign-ups through the federal exchange, Healthcare.gov, as of December 15, from the same time a year ago.
Even more notable, however, is the popularity Obamacare is enjoying in many of the states that didn't expand Medicaid. Florida, which has the highest number of people picking plans at nearly 2.6 million, has seen interest soar by nearly 23%.
And in Texas, which has the highest uninsured rate in the nation, 1.7 million residents have selected policies, up roughly 33% from last year.
Open enrollment ends Saturday, though consumers can sign up during the year if they meet certain criteria, such as losing job-based coverage.
More federal support
The surge in interest in the Affordable Care Act comes as the Biden administration and the Democratic-led Congress have pumped more resources into the 9-year-old program. That's quite a change from the four years under the Trump administration, which deeply slashed funding for marketing and enrollment assistance and cut the sign-up period in half to six weeks.
The hefty enhancement of Obamacare's federal premium subsidies, part of the Democrats' $1.9 trillion coronavirus relief package enacted last March, is helping drive consumers to sign up for plans.
This year, enrollees pay no more than 8.5% of their income toward coverage, down from nearly 10%. And lower-income policyholders receive subsidies that eliminate their premiums.
Also, those earning more than 400% of the federal poverty level are now eligible for help for the first time.
But this generous aid expires after 2022, leading some consumers and experts to worry about what will happen next year when premiums would likely rise. President Joe Biden's Build Back Better plan would extend the subsidies through 2025, but it remains stalled in the Senate.
Beefing up marketing and outreach
To let Americans know about the extra assistance available now, the Biden administration has launched an extensive outreach and marketing campaign.
"This year, our levels really were unprecedented, particularly focused on underserved and harder-to-reach areas," Chiquita Brooks-LaSure, administrator of the Centers for Medicare and Medicaid Services, told CNN. "It made a real difference in how much people were aware of coverage. Then the increased affordability made a huge difference with the number of people who were able to find plans for premiums under $10."
The agency is teaming up with local groups to spread the word, restarting its Obama-era Champion for Coverage program with more than 2,600 community organizations, more than doubling its size. CMS is concentrating its media efforts on local markets and has added six additional languages to its marketing campaign.
"The noise over the last couple of years is something we really did have to cut through," Brooks-LaSure said of the uncertainty that had plagued the health reform law. "Yes, the Affordable Care Act is still here, and it's more alive than ever."
The agency is not disclosing the size of the marketing budget.
The Biden administration is also pouring money into enrollment assistance -- which serves the dual purpose of reaching folks in local communities and helping them sign up for plans. Roughly 60 navigator organizations have received about $90 million in funding to educate and aid consumers in enrolling in the 33 states served by the federal exchange.
The remaining states run their own marketplaces, including outreach and enrollment efforts.
The extra funding makes a big difference, navigator groups say. The number of navigators has quadrupled to more than 1,500 this year, with assistance available in nearly every county served by the federal exchange.
Epilepsy Florida, which is in its ninth year as a navigator, is now able to serve eight counties in South Florida and the Treasure Coast with 26 staffers, including several who speak Creole. They have helped 755 people enroll through early January, said Islara Souto, who directs the organization's navigation program.
Read and learn more HERE!:
https://www.cnn.com/2022/01/13/politics/ob...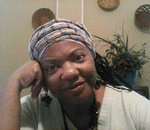 Posted By: agnes levine
Saturday, January 15th 2022 at 2:39PM
You can also
click here to view all posts by this author...