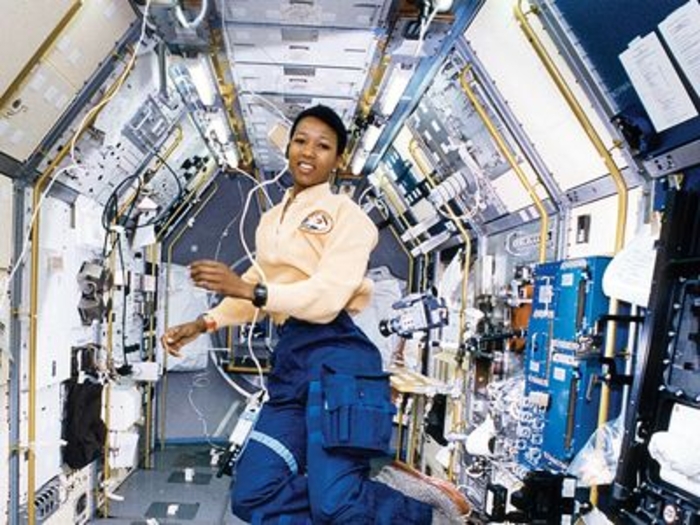 Mae Jemison
Junious Ricardo Stanton
Mae Jemison was the first Sistah in space but she wasn't a publicity stunt or merely a ride along. When she was accepted into the NASA Space program Mae Carol Jemison was already a chemical engineer (she entered Stanford University on an academic scholarship when she was sixteen years old graduating in 1977) and a physician who completed her doctorial medical degree at Cornell University in 1981. When she graduated she earned degrees in chemical engineering and African-American studies.
Mae was interested in a myriad of subjects and occupations when she was young. Her family moved from Decatur Alabama where she was born to Chicago Illinois, where she attended public schools. Mae Jemison was always interested in science and her parents supported her in that quest. She graduated from high school when she was sixteen years old and was accepted into Stanford University in California. At Stanford Miss Jemison was often the only Black person in her classes and she experienced a fair amount of racial antagonism. She graduated from Stanford with degrees in chemical engineering and African-American Studies.
When she was young she watched the Star Trek television program and became fascinated by the character of Lt. Uhura played by Michelle Nichols. So Mae Jemison added being an astronaut to her long list of things she wanted to do. Long before she went into space, Miss Jemison traveled extensively studying in Cuba and Cambodia while she was in medical school.
After graduating from medical school she volunteered for the Peace Corps in 1983 and spent two years as a medical officer in Africa. When NASA opened its doors to females and a woman astronaut Sally Ride actually flew a mission, Jemison applied but the agency closed the program to new recruits after the space shuttle Challenger exploded in 1986.
Undeterred Jemison reapplied in 1987 and was one of fifteen applicants chosen out of two thousand aspirants who applied. She trained in Florida at the NASA at the Kennedy Center and worked at the Shuttle Avionics Integrations Laboratory as an engineer to process the shuttle fleet for launch and certify shuttle software. Dr Jemison was involved in joint NASA projects with Japan conducting experiments in materials testing and processing and life sciences.
On September 12, 1992 Dr. Jemison was part of the Endeavor seven person shuttle crew that spent a week in orbit. Dr. Jemison became the first African-American women to launch into space and orbit the earth. The shuttle performed one hundred and twenty seven orbits conducting numerous tests and experiments.
When she left NASA in 1993 Dr. Jemison blended her experiences as a student volunteer, a Peace Corp physician, general practitioner and an astronaut to create programs to promote social change, science and technology by starting a space camp for students aged twelve to sixteen and a non-profit named the Dorothy Jemison Foundation for Excellence to promote academic achievement, technology and science.
Currently Dr. Jemison is a professor and an international marketing and technology consultant. She is also the author of several books for children. Mae Carol Jemison is a role model of excellence, perseverance and pride.
-30-
Posted By: Junious Stanton
Monday, March 21st 2022 at 4:13PM
You can also
click here to view all posts by this author...