What is Southern Soul Music (SSM), and Why is this "Billion Dollar Industry" not being recognized by Mainstream!
Many say SSM began in Mississippi as a sub-genre to "Soul Music" and is mainly heard and produced within the African American (AA) Community. "The genre originated in the 1950s and early 1960s, and consist of elements of AA Gospel, Rhythm & Blues, and Jazz music. Yes, this "Soul/Blues" style of music has been around for sometime, many aspiring artists today see SSM as an "Independent Artist Heaven."
So, what makes SSM a "crown jewel" for the AA community?! Meaning, how is/will SSM add value and substance - having it's own entertainers, own music production platforms, show promoters, podcast, internet & terrestrial radio platforms, and "our" dedicated audience streaming "our" music - SSM on any given day/night or hour via social media platforms.
The genre continue to strive towards one day making a major impact within the music industry, we know the music is being stream/heard internationally, there are shows going on every weekend throughout the U. S.. as the SSM grind never stops. SSM is "our" music - we control what will and will not happen to produce generational wealth within our communities in the future. The number of streams collected daily continues to be in the millions. It's time to make an impact and change the views of "our" music - Southern Soul Music!
We need everyone associated with the movement to help take the music to the next level - after all it's "our" music and we have a team of talented individuals - let's work together to make it a reality. There are many individuals who deserve to be recognized for their efforts that has gotten the movement thus far, and they will be rewarded - the Future is Now!
Photo credit - Streetz989ATL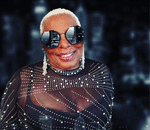 Posted By: Minister Jazz' Thomas-Jones
Tuesday, July 26th 2022 at 6:08PM
You can also
click here to view all posts by this author...