Why Black Newborns Are 3 Times More Likely to Die in the Care of White Doctors
Story by Kaitlin Stanford •
It's a statistic so shocking, it almost seems hard to believe. But, according to a recent study led by researchers at George Mason University, it's sadly true. Black babies are much more likely to die in the care of white doctors than they are in the care of Black doctors. (Just let that sink in for a minute.) As for how and why, though ... well, that remains the subject of endless debate.
First, it's important to know the study's parameters
Researchers did analyze data collected over a large period of time to reach their conclusions *and* pulled from a sizable sampling. But it was not a nationwide study. According to *CNN*, scientists looked at 1.8 million hospital births between the years 1992 and 2015 — all of which occurred in the state of Florida.
READ MORE: Why Black Newborns Are 3 Times More Likely to Die in the Care of White Doctors
https://www.msn.com/en-us/lifestyle/lifest...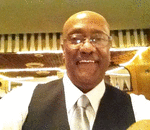 Posted By: Deacon Ron Gray
Wednesday, February 1st 2023 at 5:47PM
You can also
click here to view all posts by this author...